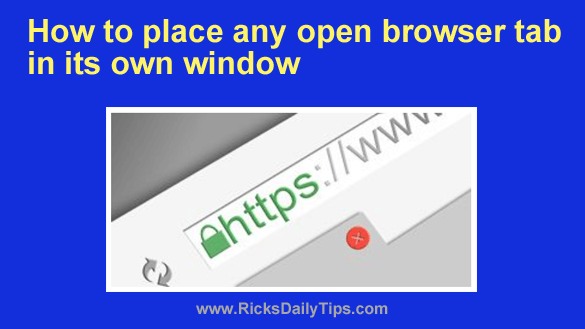 Do you frequently have several browser tabs open at the same time and find yourself switching back to one certain tab a lot more than any of the other tabs?
If so, it's often more efficient to simply separate that tab from the others and place it in its own window.
I do that a lot, and it really makes it a lot easier to concentrate on the contents of that one tab while (mostly) ignoring the others. 
If you'd like to give it a try, it's quite easy to do. Here's a short video that shows how.
Note: You can watch this video at full screen by clicking the little "square" icon in the lower-right corner of the video after it begins playing.
If you prefer following written instructions, here you go.
1 – Simply click on the tab you want to place in it's own window and drag slightly up or down.
2 – Release the mouse button after you see the tab morph into a separate window.
That's all there is to it. Pretty easy, right?
By the way, you can place as many open tabs in their own windows as you want. You're not limited to just one.
And as you might expect, you can merge that tab back with the other tabs if you want. Just grab the tab with the mouse again and drag it back to its original location.
Bonus tip: This post explains how to easily use your own personal web browser, settings and bookmarks on any PC – even a borrowed one!
---