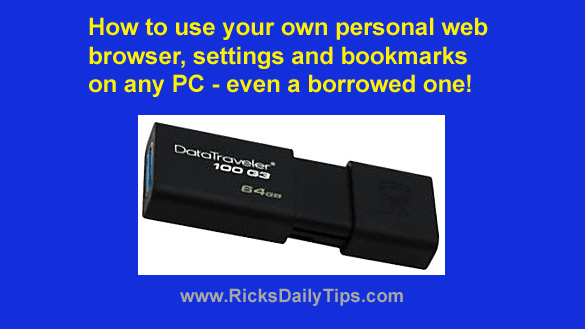 These days most people who travel on a regular basis take along a laptop or mobile device that allows them to stay connected to the online world.
Sometimes that simply isn't possible, and on those occasions it's often necessary to "borrow" a computer.
If you have ever borrowed a computer while traveling or visiting friends and relatives, you know how frustrating it can be when you don't have access to your own web browser and personal bookmarks. 
What's more, you might worry about leaving behind your browsing history for your host to discover at some later time.
Luckily, there's a simple way to prepare for situations when you might need to borrow someone else's PC. You can simply install a portable web browser on a USB Flash Drive and take your preferred settings and bookmarks along with you when you travel.
A portable browser on a flash drive offers several advantages for those times when you're using someone else's computer:
1 – You can use your own browser that is already set up exactly the way you like it. That means you won't have to fiddle around with the settings on the borrowed machine's installed browser.
2 – You'll have immediate and full access to all of your favorite bookmarks.
3 – If you use them, you'll be able to use your own stored passwords for the websites you visit. I don't recommend using stored passwords for the reasons mentioned in this post, but if you do you'll be able to use them on any computer with your portable browser.
Important: If you use stored passwords and you lose your portable browsing USB flash drive, whoever finds it will have immediate access to your online accounts. Just sayin'.
4 – You'll enjoy a lot more privacy when you use a portable browser on a USB flash drive. The browser will keep most of the typical "tracking" info on the flash drive, not on the PC that it's connected to.
Important: While this setup will likely prevent the owner of the computer you're using from finding out which websites you visited while you were using their machine, that doesn't necessarily hold true for law enforcement. Again, just sayin'.
If you'd like to create your own portable browsing USB flash drive, simply follow these steps:
1 – Select a portable browser to install on your USB flash drive. You'll find several of them to choose from by doing a simple Google search for the term "portable web browser". If you're interested in a recommendation, I use the portable version of Pale Moon which is based upon the popular Firefox browser.
2 – Download the (typically) zipped folder containing the portable browser files to your computer and unzip it.
3 – Copy the unzipped folder containing the browser files to the USB flash drive.
4 – Launch the browser from the flash drive.
5 – Set your preferred home page and change the other browser settings to your liking.
6 – Bookmark your favorite websites and (optionally) store your login passwords.
7 – Remove the flash drive from your computer and store it in a safe place until you're ready to leave for your next trip.
Now you're all set to use your handy portable browsing flash drive whenever you travel in the future.
It's important that you always take great care to safeguard your portable browser flash drive because it will contain your browsing history and stored passwords if you decide to use them.
---