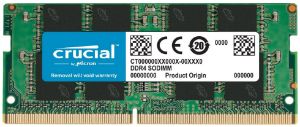 Question from Ashley L:  I'm getting ready to buy a new laptop and the model I'm wanting comes with 4GB of DDR4 RAM but I can add 4GB more (for 8GB total) for an extra $75.
I have two questions for you concerning the RAM options:
1 – Do you think doubling the RAM to 8GB is worth it for Windows 10?
2 – Is $75 a reasonable price to pay for an extra 4GB?
Thanks in advance for your advice. It'll be a big help!
Rick's answer:  Ashley, your first question is a difficult one to answer without knowing what you plan to use the laptop for.
For example, if you plan to primarily use your laptop to access the Internet, watch YouTube videos or most any other non-memory intensive tasks, you likely won't notice a huge difference between 4GB and 8GB.
However, if you plan to do any type of serious gaming or use multiple web browsers and other apps simultaneously, then the extra 4GB will likely make a huge difference in the quality of your user experience.
But whatever you ultimately end up doing with your new computer, more RAM certainly won't hurt anything. And not only that, even if 4GB is plenty for right now, it might not be enough later if you decide to use your laptop for other things in the future.
Now, to answer your second question…
In my opinion, $75 for an extra 8GB of pre-installed RAM is a good deal at this point in time. Here's why:
Depending on the brand and model, a quality 4GB DDR4 laptop RAM module would currently cost you somewhere in the neighborhood of $50.
That means if you were to pay $75 extra for a laptop with the extra 4GB pre-installed you would effectively be paying $25 for the installation of the extra RAM. Most local computer shops would charge you at least that much for the installation, and many of them would charge more.
That being said, if you would feel comfortable opening up your laptop and working on its innards you could always purchase a 4GB DDR4 RAM stick (#ad) and install it yourself and save that $25. It really isn't that difficult to install extra RAM on a laptop and there are tons of YouTube videos that show how to do it.
Installing RAM isn't entirely risk-free however so you would need to decide whether saving $25 on the installation is worth incurring that minor, but very real risk.
Bottom line: More memory is always better than less, and $75 is certainly a reasonable price to pay for an extra 4GB if you don't feel comfortable installing the extra RAM yourself.
Since you effectively asked for a recommendation, I strongly recommend that you go ahead and pay the extra $75 and purchase your new laptop with 8GB of RAM pre-installed.
I hope this helps Ashley, Good luck!
Update from Ashley: Thanks for your thoughtful and thorough answer Rick. I think I'm going to go ahead and buy the laptop with the extra 4GB already installed.
Bonus tip #1: If at some point you want to give your new laptop a nice speed increase you might be able to replace its hard drive with a much faster SSD (depending on the model of the laptop and the type of mass storage drive that's already installed).
Bonus tip #2: Want to make sure you never miss one of my tips? Click here to join my Rick's Tech Tips Facebook Group!
---
Want to ask Rick a tech question? Click here and send it in!
If you found this post useful, would you mind helping me out by sharing it? Just click one of the handy social media sharing buttons below.