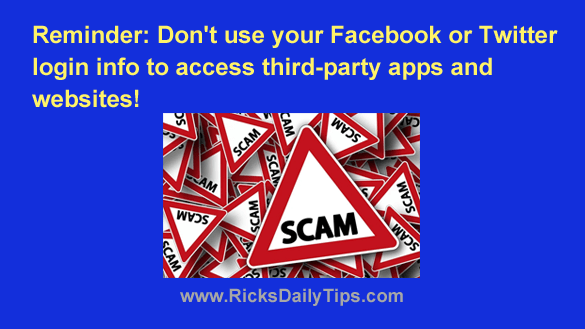 Click here to sign up for my free Rick's Tech Tips Newsletter!
---
A while back I wrote this post explaining why you should never log into third party websites and apps with your Facebook login credentials.
Well, according to this report from our friends at Engadget, this practice occasionally comes back to bite millions of Facebook and Twitter users.
Both of those companies announced that millions of users have had their personal info compromised after using their Facebook or Twitter credentials to log into a handful of malicious apps.
Both Facebook and Twitter were quick to point out that their own software wasn't responsible for the breaches, and they are right. The malicious third-party apps themselves were the culprits.
Once the users were logged into the apps (using their Facebook or Twitter login info to gain access), the apps immediately got busy harvesting the users' data.
Bottom line: If you visit a website or enable an app that gives you the option to log in using Facebook or Twitter, DON'T DO IT!
If you really want to use that website or app, take the time to create a stand-alone account. And when you do, DO NOT use your everyday email address to sign up! Use a "throw-away" email address instead.
Bonus tip: The breaches mentioned above are prefect examples of why you need to periodically check for strange apps that might be enabled on your Facebook account and disable any that you find. This post explains how.
---
Cick here to ask me a tech question.