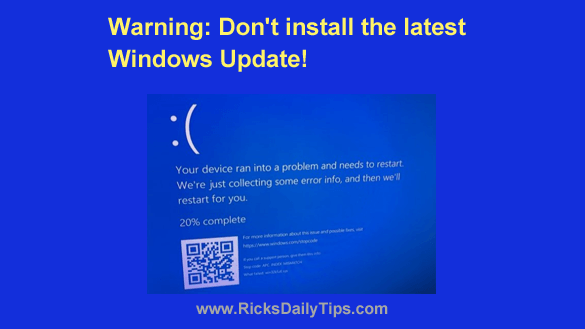 If you've been using Microsoft Windows for a while you're probably quite familiar with Windows Updates.
These periodic updates to the Windows operating system do everything from patching newly-discovered security holes to adding entirely new features the OS.
Unfortunately, they also occasionally cause problems and one of the latest updates to Windows 10 is causing a big one.
A newly-released update is wreaking havoc with numerous PCs that have printers attached to them.
I won't go into the technical details of the update fiasco here because they aren't really important to most casual Windows users.
However, if you're interested in reading the details you'll find them in this ars Technica post.
In a nutshell, the buggy update is causing printer drivers to crash, resulting in the PC displaying one of the most dreaded screens in all of computing, the "Blue Screen Of Death", or BSOD for short.
If you haven't installed this update on your computer yet, don't do it.
If you have already installed it there's a really good chance that you'll be presented with this BSOD the next time you try to print something: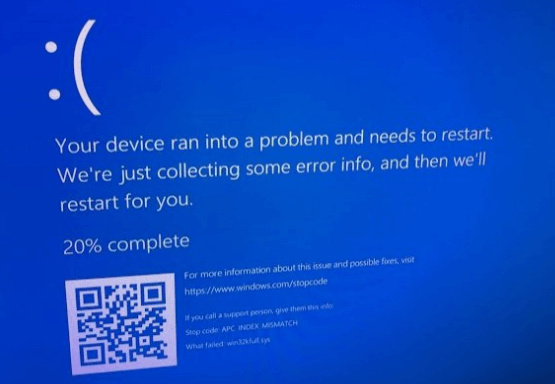 Pretty scary stuff, right?
If this buggy update is already installed on your PC you can easily uninstall it and wait for Microsoft to release a patched update that won't "blue screen" your system.
Just follow the steps below for your computer's installed version of Windows 10 to uninstall the bad update…
The first thing you need to do is find out which version of Windows 10 your PC is running. Here's how:
1 – Click the Start button.
2 – Type winver and then press the Enter key.
You should now see the Windows version displayed in the box that just popped up.
Follow these steps if your PC is running Windows 10 version 2004/20H2:
1 – Click the Start button.
2 – Type control panel and the select Control Panel from the list of Search results.
3 – Click Programs.
4 – Click Programs and Features.
5 – Click the View installed updates link that's over in the left-hand column.
6 – Click Security Update for Microsoft Windows KB50000802 to select it.
7 – Click Uninstall.
If your PC is running Windows 10 version 1909:
Follow the steps listed above and uninstall update KB50000808.
If your PC is running Windows 10 version 1809:
Follow the steps listed above and uninstall update KB50000822.
That's all there is to it. Your computer should now be back to the way it was before the buggy update was installed.
As soon as Microsoft gets this issue resolved and releases a patched update I'll write a post letting you know so you can install it.
---
Never miss a tip!  Click here to sign up for my free Daily Tech Tips Email Newsletter!