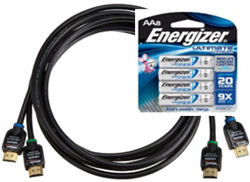 Note: The links in this post are affiliate links.
Not all that long ago it was common for folks to begin their Christmas shopping on the day after Thanksgiving – aka "Black Friday".
And of course many people still do.
But in recent years the major retailers have successfully expanded Black Friday to the point where it's now really "Black November".
That means the Christmas shopping season is now in full swing!
As you rush around trying to pick up all of the Christmas gifts on your list, don't forget about the essential extras that you'll probably want to buy to go along with the gadgets that are on the list.
What I mean by "extras" are the batteries, cables, carrying cases and other related items that will make your high-tech gifts really useful.
If you prefer to shop locally be sure to stop by the battery rack before checking out to make sure you have batteries for all the toys and gadgets you're buying.
If you're one of the millions of folks who prefer shopping at Amazon be sure to add batteries to your shopping cart there as well!
But even more important than all the tangible extras on your list is the most important "extra" of all: You!
Nothing will fill your loved ones' hearts with Christmas cheer more than seeing your smiling face, getting a big hug and sharing a day of wonderful conversation about times past and your hopes for the future.
This special tradition of giving began on the very first Christmas day some two millennia ago. And ever since that most special of days the most precious gift of all has always been the gift of sharing oneself with dear friends and loved ones.
Have fun, stay safe, and have a very Merry Christmas!
Bonus tip: Want to make sure you never miss one of my tips? Click here to join my Rick's Tech Tips Facebook Group!
If Facebook isn't your cup of tea, I invite you to sign up for my Rick's Daily Tips Daily Update Newsletter.
---
Want to ask Rick a tech question? Click here and send it in!
If you found this post useful, would you mind helping me out by sharing it? Just click one of the handy social media sharing buttons below.