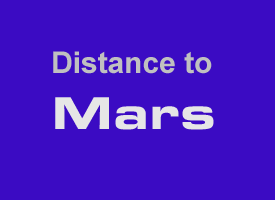 Most everyone knows that our universe is an amazingly vast place that the human mind will likely never be able to truly comprehend, but relatively few realize just how far it is even to our closest planetary neighbors.
Take for instance the distance to that favorite fodder for countless science fiction books, the planet Mars.
Many of us have been fascinated by the "Red Planet" for our entire lives, but actually going there would take a lot longer than a typical vacation would allow. 
On an astronomical scale, Mars is right in our own proverbial back yard. Only the terribly inhospitable Venus and our own Moon are closer to our home planet. But that being said, it's still many millions of miles from Earth to the dusty surface of our red neighbor.
It's hard to comprehend such vast distances, but our friends over at a fantastic website called DistanceToMars have put together a fun tool that helps comprehend it about as much as is humanly possible. Click here to check it out, then click the arrow at the bottom of the screen to begin your virtual journey to Mars!
If the vastness and mystery of space intrigues you as much as it does me, be sure to check out the NASA website and all of it's sub-sections, especially the massive galleries of space images!
One of my favorite NASA galleries features thousands of amazing close-up images of the red planet captured by robotic explorers on the Martian surface and in orbit around it.
Some day the first humans will step onto Mars' coppery-red surface and look back at the tiny blue dot that is Earth and once again ponder the vastness of space. And all the while they'll still be in our virtual back yard in the context of the vastness of the universe as a whole.
---
If you think your friends would like this post, I'd love you to share it! Thanks a bunch!