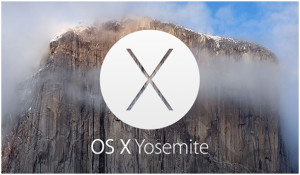 Question from Keitha D.:  Hi Rick. I need your help with an issue I'm havingwith my Macbook Pro.
I recently upgraded from OS X Mavericks to Yosemite, and ever since the upgrade I can't seem to view any file extensions. Can you tell me how to get them back?
Rick's answer:  Apparently this has been an issue for lots of folks Keitha. Luckily, it's very easy to get OS X Yosemite to start showing file extensions again. Just follow these steps:
1 – Click Finder.
2 – Click Preferences.
3 – Select the Advanced tab.
4 – Check the box beside Show all filename extensions.
When you are finished, you should see something like this: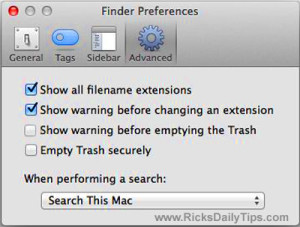 That's all there is to it Keitha. From now on you should be able to see all the file extensions along with the filenames.
I hope this helps. Good luck!
Update from Keitha:  Exactly what I was looking for Rick. Thanks!!
Note: OS X Yosemite logo courtesy of Apple.com.
---
Do you have a tech question of your own for Rick? Click here and send it in!