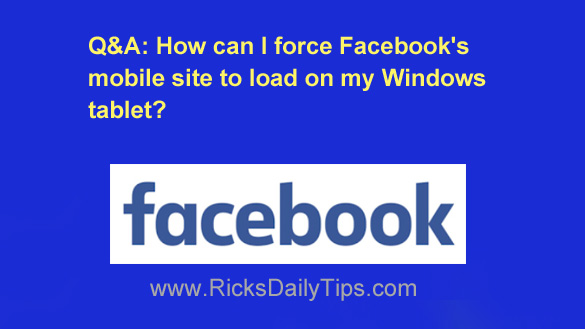 Question from Patti T.: My son bought a Surface Pro and he gave me his old Vido 10 inch Windows tablet. It works great except for one really irritating problem.
When I load Facebook in the Chrome browser everything looks so small it's hard to read it, and it's even harder to tap on links and stuff.
Someone told me that I can load the mobile Facebook site to make everything easier to use but I can't figure out how to the mobile version to load. It keeps loading the full website no matter what I do.
Can you tell me what I need to do to load the mobile Facebook site?
Rick's answer:  Hi Patti. I have a 10 inch Windows tablet too and I know exactly what you mean when you say everything is too small.
Luckily, it's very easy to force your browser to load the mobile version of Facebook. Just follow the steps below:
1 – Launch your preferred web browser (in your case, Google Chrome).
2 – Tap the web address that's currently displayed in the address bar to select it.
3 – Type the following into the address bar:
m.facebook.com
4 – Tap the Enter key.
Note: If you don't see a key labeled "Enter", look for a key with a right-facing arrow where you would usually expect to find the Enter key.
You should now see the mobile Facebook site displayed in the browser window.
By the way, you can force your browser to load the mobile versions of many other popular websites simply by adding the m. prefix to the site's domain name. It doesn't always work, but it's always worth a try if the desktop version of a site is displayed on your mobile device.
Luckily, most websites are "responsive" these days, which means the web browser can detect whether the device is a computer or mobile device and display the correct version of the site automatically.
However, some sites haven't yet been coded to be responsive and some Windows tablets won't display the mobile version of a site by default,  even if a mobile version exists.
In that case you'll need to add the .m to the front of the domain name to force the change to the mobile site (IF a mobile version of the site exists, of course).
And finally, one more quick note…
You can also use this trick to load the mobile version of Facebook's website on a netbook, a laptop or a desktop computer that has a small screen in order to make it easier to read the text on the page.
I hope this helps Patti. Good luck!
Update from Patti: Works great Rick. Thank you!
Bonus tip: Read this post to learn how to protect your Facebook account from hackers.
---
Never miss a tip!  Click here to sign up for my free Daily Tech Tips Email Newsletter!