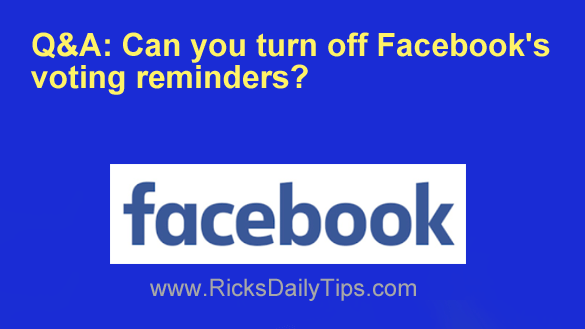 Question from Patty:  We have a special election coming up in my area and I keep getting those voting reminder messages from Facebook in my Newsfeed.
I always vote and I don't need Facebook reminding me to go and do it.
Is there any way to turn those voting related messages off? 
Rick's answer:  I know exactly what you mean, Patty.
I too always vote in every election, and I usually just ignore Facebook's reminders to do so.
That being said, I can certainly understand why you would want to disable them altogether.
Luckily, it's very easy to completely turn off all voting-related reminder messages on Facebook. Just follow the steps below for the device you're using.
If you use Facebook in a web browser on a laptop or desktop computer:
1 – Click the down arrow at the far-right side of the top menu bar.
2 – Click Settings & privacy.
3 – Click Settings.
4 – In the left-hand column, click Notifications.
5 – Scroll down to the "Voting Reminders" section and toggle both settings to Off.
If you use the Facebook app on a mobile device:
1 – Tap the Menu icon in the top-right corner of the screen (it looks like three horizontal lines stacked atop one another).
2 – Tap Settings & Privacy.
3 – Tap Settings.
4 – Tap Notifications.
5 – Scroll down and tap Voting Reminders.
6 – Toggle both settings in the "Notifications" section to Off.
That's all there is to it. You should no longer see any voting-related reminders popping up in your Facebook Newsfeed.
I hope this helps, Patty. Good luck!
Update from Patty:  That's awesome. Thanks!
---