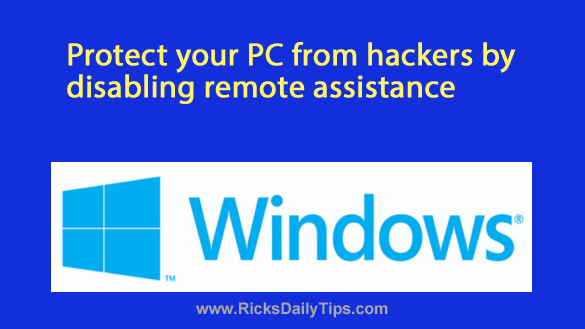 Both Windows 10 and Windows 11 have a very useful feature that allows someone else to remotely take control of your PC in order to fix a problem for you.
This tool has helped countless PC users get their computer issues resolved quickly and efficiently without having to send their PCs back to the manufacturer or haul them to a repair shop.
Unfortunately, hackers can also use this feature to take control of computers located half-way around the world in order to install malware and steal personal information such as credit card or bank account numbers.
Important: NEVER allow ANYONE who calls you from out of the blue claiming to be from Microsoft or any other tech company to remotely take control of your PC, for any reason.
As I explained in this post, Microsoft will never call you from out of the blue to tell you that your PC has a problem.
If someone ever does call claiming to be from Microsoft, an antivirus provider or any other company, you can safely assume that the person on the other end of the line is a hacker, NOT an employee of that company!
For added protection I recommend that you disable remote assistance until you actually need to allow a trusted remote technician or support rep that you contacted first to use it to help you solve a problem.
Follow these steps to disable remote assistance on your Windows 10/11 PC:
1 – Click the Start button, then type the words control panel and select Control Panel from the list of search results.
2 – Click System and Security.
3 – Click the the Allow remote access link that's located in the "System" section.
4 – Uncheck the box beside Allow Remote Assistance connections to this computer.
5 – Click Apply, then click OK.
That's all there is to it. Now hackers won't be able to remotely log into your computer and take control of it.
Bonus tip: Click here to learn how to protect your precious photos and other files by creating a System Image backup of your computer's hard drive.
---