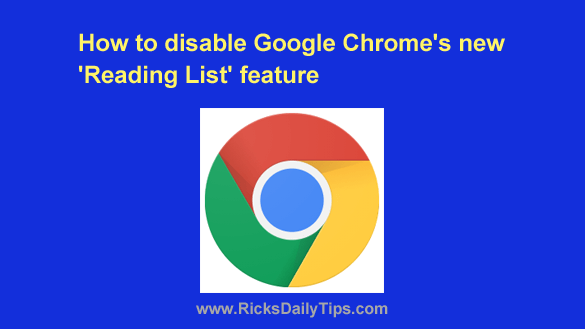 Do you use Google's Chrome web browser?
If so, you've probably noticed a new "Reading List" link over on the right side of Chrome's Bookmarks Bar.
If you're unfamiliar with it, "Reading List" is a place where you can store links to web pages that you want to read at a later date/time.
I'm sure there are plenty of people who like and use this new feature, but I don't know any of them.
Personally, I don't use it and I don't like having it take up valuable space on my Bookmarks Bar.
And based upon the emails I've been receiving about it lots of other folks dislike it as well.
If you happen to be one of them you can easily remove the "Reading List" link by disabling the feature altogether. Here's how:
Note: The procedure below works on laptop and desktop computers as well as the Chrome mobile app.
1 – Open Chrome.
2 – Type (or copy and paste) the following into the address bar:
chrome://flags/#read-later
3 – Press the Enter key. You should now see the "Reading List" setting highlighted on the screen.
4 – Click on the word Default and change the setting to Disabled.
5 – Click the Relaunch button that just popped up at the bottom of the screen.
That's all there is to it. After Chrome has been relaunched you should no long see the "Reading List" link on the Bookmarks Bar.
Important: Google has classified this new "Reading List" as an "experimental" feature.
In a nutshell, that means it's basically in a beta state at the moment and undergoing testing to see if:
a) it works well, and…
b) if enough people like it and use it to justify keeping it as a part of Chrome.
If you disabled the "Reading List" feature then Google's ultimate decision won't affect you in any way.
However, if you decide to use it I strongly recommend that you don't store any links in it that you really don't want to lose access to.
Those important links should be stored via regular Bookmarks instead.
---
Never miss a tip!  Click here to sign up for my free Daily Tech Tips Email Newsletter!