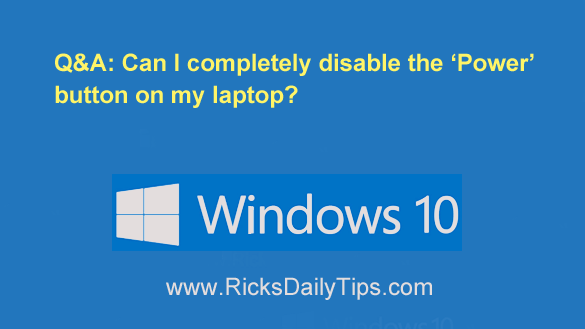 Question from Eric:  I received a hand-me-down ASUS Zenbook UX305 with Window 10 from my daughter.
I like it a lot but there's one thing about it that drives me nuts.
The Power button on this laptop is located on the keyboard and it looks just like a regular key. Just about every time I start typing I hit the Power button by mistake and it shuts the machine down.
No matter how hard I try to remember not to touch the Power button, I end up doing it anyway.
I know how to shut the computer down with the mouse so I don't really need to use the Power button at all once the laptop has booted into Windows. Is there any way to disable it?
Rick's answer:  Eric, the unfortunate placement of the Power button on the Zenbook UX305 is a common source of frustration.
Why ASUS decided to make the power button look so much like a regular "key" and place it right next to the other keys on the keyboard is beyond me, but they did.
Luckily, it's very easy to disable the Power button simply by changing a Windows setting. Here's how:
1 – Right-click on the Battery icon located in the bottom-right corner of the screen in the "Notifications" area.
2 – Click Power Options.
3 – Click Change what the power buttons do.
4 – Find the "When I press the power button" line and change both settings to Do nothing.
5 – Click Save changes.
That's all there is to it. From now on you'll be able to press the Power button all you want without accidentally shutting your laptop down.
I hope this helps, Eric. Good luck!
Bonus tip: This post explains how to enable the F8 key for booting Windows 10 into Safe Mode.
---
Never miss a tip!  Click here to sign up for my free Daily Tech Tips Email Newsletter!