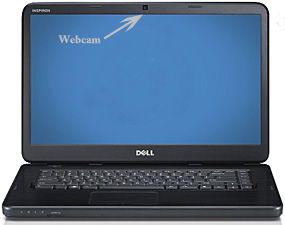 Question from Alice T.:  Rick, I have an HP laptop running Windows 7, and I have a question for you.
I read somewhere that hackers can take control of your webcam and make videos and take pictures of you without your knowledge.
I NEVER use a webcam for anything so I'd like just disable it completely and be done with it. How do I do that?
Rick's answer:  Hi Alice. You can easily disable your laptop's webcam with the Device Manager utility, but you don't really need to unless you absolutely want to. All you really need to do is tape a small piece of opaque paper over the camera lens. Just be careful not to get any of the glue from the tape on the lens itself.
This is the solution that I usually recommend because it leaves your system settings untouched in case you or someone else decides to use the webcam at some point in the future.
If you still would rather disable the camera completely, it's quite easy to do. Here's how:
1 – Click the Start orb.
2 – Type Device Manager into the Search box.
3 – Select Device Manager from the list that pops up.
4 – Find your webcam on the list of installed devices and right-click on it.
5 – Click Disable.
6 – Close the Device Manager window by clicking the X in the upper right-hand corner.
After following the above procedure, the built-in webcam on your laptop will be disabled and unavailable for use by you or anyone else (including hackers) until you re-enable it. If you do decide to re-enable it at some point, just follow the steps above and click Enable in step #5.
---
Do you have a tech question of your own for Rick? Click here and send it in!