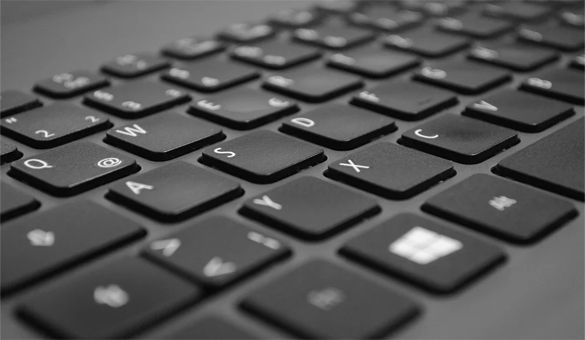 Like my tips?  Click here to sign up for my free Daily Tech Tips Newsletter and you'll never miss one!
---
Note: The links in this post are affiliate links.
Question from Greg T.:  I dropped my heavy book bag onto my laptop's keyboard several days ago, and when it landed I heard a cracking sound.
The keyboard still works, but at random times it'll just start typing garbage on its own. It's basically unusable so I'd like to disable the built-in keyboard and use a cheap USB keyboard
in its place.
I know I can have the internal keyboard replaced but I don't want to go to the trouble or expense since I'm going to be replacing this machine in a few months anyway.
So what I need to know is can I disable my laptop's built-in keyboard? If I can, how do I do it? This machine is running Windows 10 Home.
Rick's answer:  I'm sorry to hear about the accident with your laptop, Greg. But it sounds to me like you've come up with the perfect solution. In fact, I recommend this very course of action quite often in situations like this.
To answer your question, you sure can disable the internal keyboard. Just follow the steps below:
1 – Press the Windows+S key combination to open a Search box.
2 – Type the word Device into the Search box, then select Device Manager from the list of search results.
3 – Find Keyboards in the list of devices and click the arrow to expand it.
4 – Right-click on the internal keyboard and click Disable. If there is no "Disable" option listed, click Uninstall.
5 – Click File>Exit. Your laptop's internal keyboard should now be disabled.
Important: If you have to click "Uninstall" in step 4 the driver for the internal keyboard will probably be reinstalled the next time you boot the machine into Windows.
If so you'll probably have to repeat this procedure every time the machine starts back up. No big deal, but it's something you do need to be aware of.
That's all there is to it, Greg. Your laptop's internal keyboard should now be disabled.
By the way, if you're still looking for a good, but inexpensive USB keyboard you'll find a great selection
on Amazon.
Bonus tip: This post explains why I recommend that you keep your laptop plugged into a surge protector any time it's charging the battery or running on AC power.
---
Cick here to ask me a tech question.