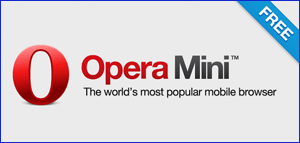 Question from Beth J.:  I've been using the Opera Mini browser on my Android phone for a long time and I only started having this problem a few days ago.
Now every time one of my friends comments on a Facebook post of mine or sends me a message a notification from Facebook pops up on my phone. It even does it when I don't have Facebook loaded!
I prefer to keep my Facebook activities discreet and I don't want these notifications popping up. Can you tell me how to turn them off?
Rick's answer:  I sure can Beth, and it's fairly easy to do. Here's how:
1 – Tap the Opera Mini icon to launch the app.
2 – Tap the red O in the bottom-right corner of the screen.
3 – Tape the Settings icon (it looks like a "cog" or "gear").
4 – Scroll down and tap Facebook notifications.
5 – Toggle the Facebook notifications setting to Off (it will turn from blue to light gray).
6 – Tap the Back Button (the large left-pointing arrow) twice to return to the Opera Mini browser's home page.
That's all there is to it. You shouldn't be receiving any more Facebook notifications on your phone.
By the way, I use Opera Mini too, and I absolutely love it! If anyone reading this wants to give it a try, this post has more information along with the download link.
I hope this helps Beth. Good luck!
---
Do you have a tech question of your own for Rick? Click here and send it in!
And now for a bonus tip: Be sure to sign up for my free RicksDailyTips Email Newsletter at the bottom of this page!
Want to help spread the word about my tips? Just click one of the handy social media sharing buttons below: