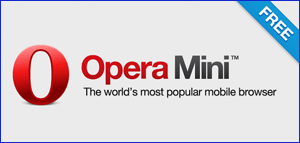 If you use the standard web browser that came pre-installed on your smart phone, you're wasting your time. And I mean that literally. That's why you need Opera Mini.
Opera Mini is a lean, super-fast version of the popular Opera web browser that loads web pages and photos much faster than the standard mobile web  browser.
It achieves these faster speeds by compressing all the images on a web page right on a dedicated Opera server, then sends the optimized pages to your phone. When you first click a link you'll notice a slight delay while the server is optimizing the images, but then you'll see the page load onto your screen in a jiffy.
In addition to its massive speed advantage, Opera Mini also offers several other enhancements over your standard mobile browser.
For example, the tabbed browsing feature lets you load multiple web pages and then switch between them with a tap of your finger. And even better, Opera Mini has ad blocking built right in to the browser.
And since Opera's servers compress the data before your phone receives it, you won't use up your cellular plan's data allotment as fast!
What's more, Opera Mini now blocks ads by default!
Bottom line: If you often find yourself getting frustrated at the snail's pace of your phone's browser, download Opera Mini and give it a try. I think you'll find yourself wondering how you ever got along without it!
Android users can download Opera Mini absolutely free from the Google Play Store. If you have an iOS device you'll find it on iTunes.
---
And now for a bonus tip: Be sure to sign up for my free RicksDailyTips Email Newsletter at the bottom of this page!
Want to help spread the word about my tips? Just click one of the handy social media sharing buttons below: