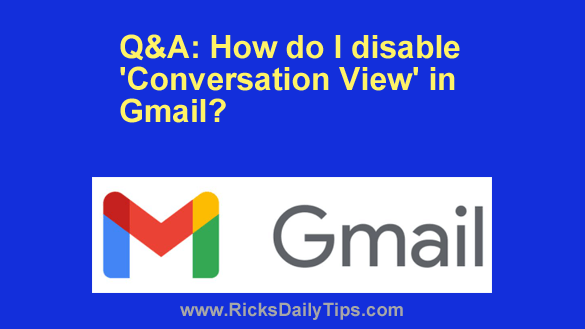 Question from Callie:  I hate how Gmail groups all of the messages I've received from someone and my replies to them all together instead of just listing my emails individually with the newest ones on top.
I did some research and found out that's due to something called 'Conversation View'.
The article I read explained how to disable it but it's a really old article and the steps they listed didn't work.
Can you tell me what I need to do to disable Conversation View and get Gmail to list the emails I receive individually, in reverse order? 
Rick's answer:  I'll be happy to help you with that, Callie.
While some people think Conversation View is the best thing since the discovery of fire, plenty of others find it almost as annoying as a fly that keeps buzzing about your head and landing on your nose.
Luckily, it's easy to disable Gmail's Conversation View with just a few mouse clicks. Here's how:
1 – Log in to your Gmail account.
2 – Click the "Gear" shaped Settings icon that's located to the right of the Gmail search bar.
3 – Click See all settings.
4 – Make sure the General tab us selected, then scroll down the page until you find the 'Conversation View' section, then select Conversation view off.
5 – Scroll all the way to the bottom of the window and click Save Changes.
6 – To return to your Gmail Inbox simply click the Inbox link in the left-hand column.
From now on all of your inbound emails will be listed in your Inbox and all of your replies and sent messages will be listed in the Sent folder.
I hope this helps, Callie. Good luck!
Update from Callie:  Awesome! Thank you!!
---