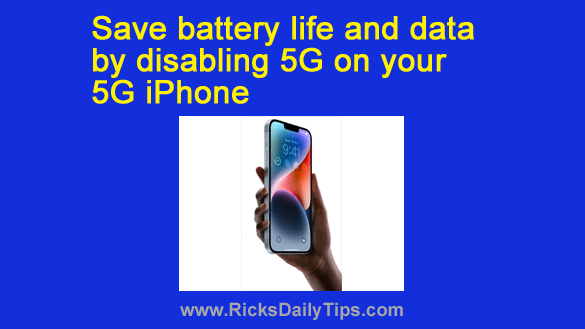 Do you have an iPhone that supports 5G cellular connectivity?
If so, disabling 5G and forcing the device to use 4G LTE instead (if you don't really need the extra speed provided by 5G, of course) will do two things for you: 
1 – It'll make the phone's battery last longer between recharges. This can be really important if your iPhone's battery doesn't last as long as you need for it to on a regular basis.
2 – If you have a limited data cellular plan it'll make your monthly data allotment last longer.
If one or both of those benefits of disabling 5G is important to you, you can follow the steps below to disable it on your iPhone:
1 – Tap your phone's Settings icon (it looks like a "gear").
2 – Tap Cellular.
3 – Tap Cellular Data Options.
4 – Tap Voice & Data.
5 – Tap LTE.
That's all there is to it. Your iPhone will now use a 4G LTE cellular data connection instead of the much faster, but resource-hogging 5G.


---