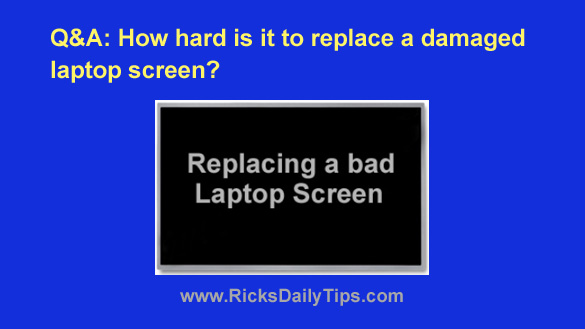 Note: The links in this post are affiliate links.
Question from Andreas G.:  My favorite laptop (an ASUS X551M) fell off of my kitchen table and it cracked the screen.
It isn't cracked that bad, but unfortunately the entire right side of the screen is black and completely unresponsive.
I really like this laptop and I'd love to get it fixed but I can't afford to spend a lot of money on it.
How hard is it to replace a laptop screen? Do you think I could do it myself?
Also, do you have any idea how much it would cost to get a replacement screen?
Rick's answer:  Hi Andreas. Most laptop screens are actually fairly easy to replace as long as you carefully follow the instructions provided and use the proper tools.
Youtube is a virtual library of videos that show how to make most any computer repair, and I quickly found a very good video that shows exactly how to replace the screen on an ASUS X551M laptop, step-by-step.
I recommend that you watch the video and then decide for yourself whether you'll feel comfortable taking on the job or not.
I believe you could probably handle the job of replacing the broken screen on your laptop, Andreas. But that's a decision you'll need to make for yourself based upon what you saw in the video.
If you decide you want to try it you can expect to pay between $50 and $75 for a replacement screen for this particular laptop.
I did a quick check on Amazon and found several screens that'll work for you, including this highly rated screen that's currently selling within that price range.
You'll also need the tools mentioned (and used) in the video, but chances are you already have them in your toolbox. If not, you can buy them for just a few bucks.
I hope this helps, Andreas. Good luck!
Bonus tip: If you decide to replace the screen in your laptop, you might want to consider also replacing the hard drive with a super-fast solid state drive (SSD).
---
Never miss a tip!  Click here to sign up for my free Daily Tech Tips Email Newsletter!