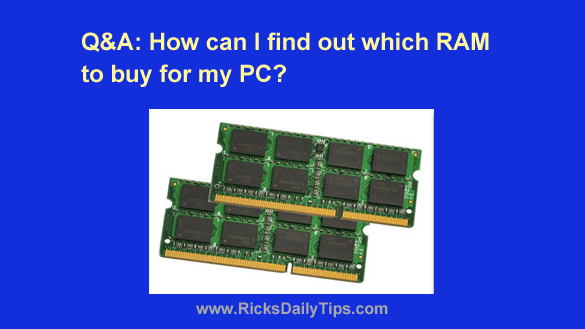 Question from Chris:  My family has two laptops and a desktop computer, all of which need more RAM. How can I find out which type of RAM to buy for each computer?
I checked online and there's DDR, DDR2, DDR3, DDR4, DIMMs, SODIMMS, etc. and they all seem to operate at different speeds. It's all so confusing!
Rick's answer: Chris, choosing the correct type of RAM for upgrading a computer can be confusing indeed.
There really are so many different RAM types and speeds available that it's hard for the average person to keep up with.
But luckily our friends over at Crucial.com make it easy with their awesome System Scanner Tool. You'll find it right on the site's Home page.
The System Scanner tool will scan your computer's hardware to determine what kind of RAM your system uses, how much is currently installed and what your upgrade options are (if any).
At that point you can easily choose an upgrade option from the list provided by the tool and purchase it from Crucial on the spot.
If you would prefer to buy your RAM elsewhere, either print the page or write down the EXACT specs for the RAM your computer needs and use that info to either buy the RAM locally or online from Amazon (#ad) or another reputable company.
That's all there is to it. As you can see, the wonderful folks at Crucial make it easy to find out exactly what you need to purchase in order to upgrade the RAM in any PC!
I hope this helps, Chris. Good luck!
---