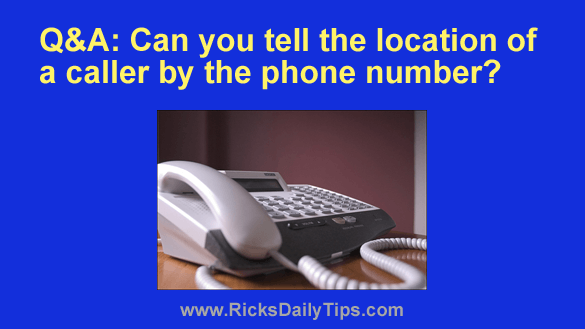 Question from Martha:  About three or four times a month I get a call from the number (205) 595-XXXX.
(I blanked out the last four digits to protect the caller in case everything is on the up and up.)
The strange thing is this person just calls and then hangs up just as soon as I answer. Then it'll be a week or two before they call again.
I won't tell you where I live because I don't want this person to see it and hunt me down. I know I'm probably just being paranoid, but it does worry me.
My question for you is do you know if it's possible to determine where that caller is located just from looking at the phone number? Thanks in advance for your help.
Rick's answer:  I don't blame you for being a little paranoid about this, Martha. You just never know about people these days.
To answer your question, it is indeed possible to determine the general area where a call from a landline is coming from or the general area that a specific cell phone number is assigned to. All you have to do is search for the phone number on AllAreaCodes.com.
Using the number you mentioned above as an example, the results of a quick search for the area code 205 and prefix 595 indicates that the caller is in the Birmingham, Alabama area. Without the last four digits there's no way to narrow it down any closer than that.
If you enter the entire phone number into the search box and the number is for a landline you'll be given either the name of the caller or the name of the business the number is assigned to.
If it's a cell number you'll be told that you'll have to pay a fee before you'll be given the name of the person or business.
Since Birmingham is a major financial hub for the southeastern part of the United States, there's a chance that your number has somehow become linked with a debtor that owes a huge credit card bill or something. Just a hunch. But it sure is strange that they always hang up without saying anything.
Anyway, now you know the answer to your question.
Important: There is one caveat to keep in mind when using the website I linked to above…
If a mysterious caller's number is assigned to a cell phone, there is literally no way to know where the caller is actually located at the time the call is placed.
A caller using a cell phone could be calling from the city listed on the directory page or from another location thousands of miles away. Just sayin'.
I hope this helps, Martha. Good luck!
---