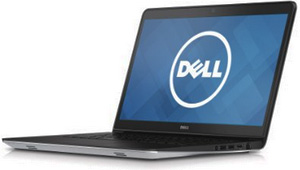 This is an interesting era in the world of laptop computers. Gaming and business laptops just keep getting faster and more powerful while ultrabooks keep getting smaller, thinner and lighter.
And at the same time, it seems that the laptops in the middle are becoming more or less forgotten.
That being said, I believe these mid-range traditional-style laptops still have a valid place in the world. I recently had the opportunity to check out one such laptop, and came away thinking pretty highly of it. 
The Dell Inspiron i5447-6250sLV 14-Inch Touchscreen Laptop (#ad) offers a lot of computing power at a good price. Its vibrant and responsive 14 inch touch screen is plenty large enough for both moderate gaming and business-related tasks, yet the case is small enough and light enough to carry around with you as go throughout your day.
With it beefy Intel i5-4210U CPU, 8GB of DDR3 RAM and 1TB hard drive, the Inspiron i5447-6250sLV is easily capable of doing pretty much everything that needs to get done. At five pounds it is a tad heavier than most ultrabooks, but the rugged brushed-aluminum case makes that a very acceptable trade-off.
As with most modern notebook PCs, this one doesn't come with a built-in optical drive. It's very easy to add one however by simply plugging in a very inexpensive external USB optical drive. (#ad)
Note that this laptop comes with Windows 8.1, not Windows 10, so be sure to take that into account when deciding whether this machine is for you.
Bottom line:  If you're a traditionalist like me who enjoys using a laptop that lies somewhere between an ultrabook and an expensive gaming machine, I believe you'll find the Inspiron i5447-6250sLV a real joy to use.
Click here (#ad) to read more about the Dell Inspiron i5447-6250sLV 14-Inch Touchscreen Laptop at Amazon.
---
If you think your friends would like this post, I'd love you to share it! Thanks a bunch!