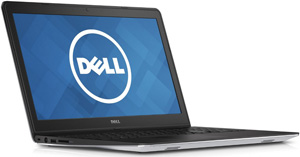 These days it's easy to find a laptop for as little as $200, and if all you need is a basic laptop for Internet use, most of them would probably serve you pretty well.
But if you need a machine with more oomph for running Photoshop or some other resource intensive task, you'll be better off getting a laptop with a faster, more powerful CPU, more RAM and a larger hard drive.
The Dell Inspiron 15 i5548-2500SLV 15.6-Inch Laptop meets that need quite well.
This superb machine has everything a power user needs. In addition to its powerful Core i7-5500U 2.4 GHz CPU, 8Gb of RAM and 1TB hard drive, it also comes with all of the following: 
Bright, clear 15.6″ HD LED Backlit Color Display
Intel HD Graphics 5500 w/HDMI Output
1 USB 3.0 Port
5-in-1 Memory Card Reader
Intel Centrino Wireless-AC 3160 Wi-Fi
Bluetooth 4.0
720p Webcam
Integrated Microphone
FastAccess Facial Recognition
Backlit Keyboard
Stereo speakers + MaxxAudio
Windows 8.1 (upgradable to Windows 10 for free)
1 Year Limited Warranty
Like most modern laptops, this one doesn't include an optical drive. But if you happen to need one you can always add an external USB optical drive
(#ad) for as little as $15.
As you can see, there is plenty of power packed into this laptop's attractive and sturdy case. And since Dell is one of the most trusted names in the computer world, you can rest assured that this machine is built to last.
Bottom line: If you're looking to do more with your laptop than just surf the Internet and check in with your friends on social media, this awesome machine just might be what you're looking for.