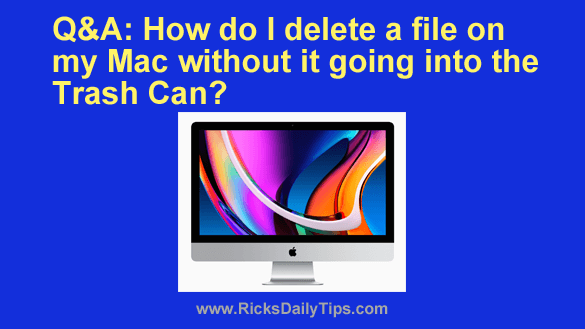 Question from Lamar:  I recently bought my first Mac, and I really like it.
So far I'm adjusting to the differences between Windows and MacOS pretty well, but one thing is really bugging me.
In Windows I can hold down the Shift key and delete a file without it going into the Recycle Bin, but I can't figure out how to do it on my Mac.
How do I delete a file in MacOS without it going into the Trash Can? 
Rick's answer:  I'm glad you like your new Mac, Lamar. It really is a fantastic machine.
To answer your question, there are actually two ways to skip the Trash Can when deleting a file (or files) in the latest versions of MacOS.
First, you can use a simple keyboard shortcut like you do in Windows. Here's how:
1 – Select the file(s) you wish to delete, then press the Option+Command+Delete key combination.
2 – Respond to the confirmation dialog box by clicking the Delete button. The files will be deleted right away without landing in the Trash Can.
If you happen to forget the keystroke combination mentioned above, you can still delete one or more files while skipping the Trash Can using your mouse. Here's how:
1 – Select the file(s) you wish to delete.
2 – Click File at the top of the screen to open the File Menu.
3 – Click Delete Immediately.
4 – Click the Delete button to confirm that you do indeed wish to delete file(s) without having them go into the Trash Can.
Important: Before you delete a file (or files) using one of the methods detailed above, make absolutely sure that you want the file gone forever because you won't be able to "undo" the deletion.
That's all there is to it, Lamar. Good luck!
Bonus tip: This post explains how to boot your Mac into 'Safe Mode' when you need to troubleshoot a software issue.
---