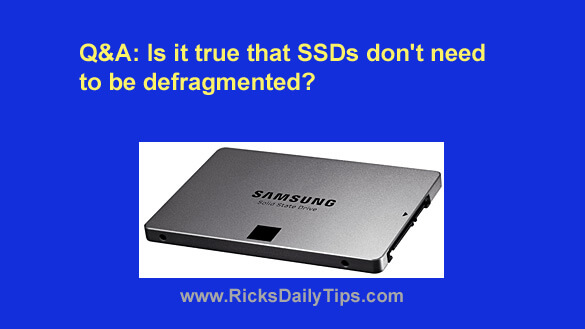 Question from Roger:  Rick, I followed your advice and replaced the hard drive in my laptop with a solid state drive (SSD).
I'm absolutely blown away by how much faster the laptop boots up and how much faster my programs load.
I do have one question though. I read in another forum that SSDs don't get fragmented and they never need to be defragged. Is that true?
Rick's answer:  Roger, part of what you read is true, and part of it isn't. First, let's deal with the part that is incorrect.
Contrary to what you read, an SSD will definitely become fragmented over time due to the way Windows saves files to a mass storage device.
The good news is, unlike a fragmented hard drive, a fragmented SSD doesn't slow your computer down.
With traditional hard drives, the platters have to spin around and the "read" heads have to move in and out multiple times in order to find all the pieces of a fragmented file.
All of this physical motion slows your PC down while Windows tracks down and pieces together the scattered parts of the files and loads them into RAM. That's why hard drives need to be defragged on occasion.
But unlike hard drives, SSDs have no moving parts. The data is read directly from the drive's non-volatile memory cells into RAM, and that process is just as fast for a fragmented file as it is for a contiguous file.
Therefore, no defragging is required.
As a matter of fact, defragging an SSD can actually do long-term damage to the drive because NAND-based flash memory cells can only be written to a finite number of times before they lose the ability to store data.
Bottom line: Even though your SSD will become fragmented over time, the performance of the drive won't deteriorate as a result. You will never have to defragment it, nor should you.
---