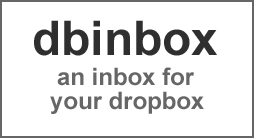 Letting other Dropbox users upload files to your Dropbox account is easy, but what about folks who don't have a Dropbox account of their own?
Well, now there's a free app called Dbinbox that lets you easily allow anyone equipped with a web browser to upload files directly into a special folder in your Dropbox account!
Setting up Dbinbox is easy. Here's how: 
1 – Visit http://dbinbox.com.
2 – Choose a username, then click the link with your dropbox button.
3 – Follow the prompts on the next two screens to log into your Dropbox account and allow Dbinbox to create a special folder within your account.
4 – Share the URL to the special folder created in step 3 with anyone who you would like to be able to send you files via Dropbox. (You can optionally require anyone who wishes upload files to your Dropbox account to enter a password before being allowed to do so. I strongly recommend this!)
As you can see, setting up Dbinbox takes just a couple of minutes, but allowing others to use Dbinbox to share files with you is even easier.
All someone has to do to upload a file to your Dropbox account via Dbinbox is visit the URL you gave them with their web browser, then drag and drop the file(s) they wish to share right into the browser window! If you set up Dbinbox to require a password, they'll be prompted to enter it. It really is that easy!