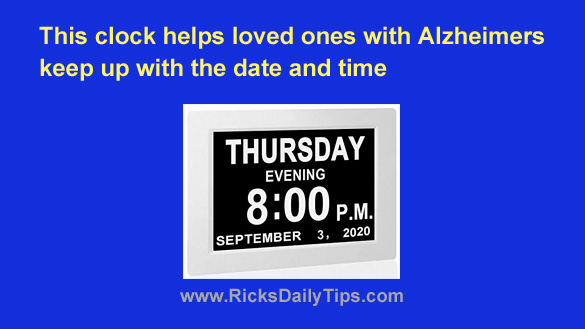 Note: The links in this post are affiliate links.
If you have a loved one who is dealing with memory loss issues due to Dementia, Alzheimer's or simple advanced age, you've probably noticed that it's hard for them to keep track of the current time, date, and day of the week.
Thankfully, now there is a wonderful clock that can help ease that burden and restore part of their lost independence. 
This Digital Calendar Alarm Day Clock was specially designed for loved ones who are dealing with memory loss. It features large, easy to read letter and numbers, and the month and day are always spelled out in full.
Most clocks abbreviate the current month and day (i.e. Mar for March and Tue for Tuesday) and that makes it difficult for many people with memory loss to understand what month and day it is.
As you can see, this wonderful Memory Loss Clock never abbreviates anything. Just a quick glance will tell your loved one instantly what month, day and time it is.
Even though this clock was specially designed to aid those who are dealing with Dementia and Alzheimer's, those words DO NOT appear anywhere on the clock. Your loved one will only recognize it as a clock – nothing else.
The display on this clock is large, bold and very easy to read from across the room, even for those with less than perfect vision. It has an 8 inch diagonal high resolutions screen and it can either sit on a table or shelf or hang on the wall.
Here is a larger view of this wonderful clock:
Bottom line: If you have a loved one who is dealing with memory loss resulting from Dementia, Alzheimer's or simple advanced age, this clock can help reduce or eliminate the confusion involved with trying to keep up with the current date and time.
Click here to read more about this Digital Calendar Alarm Day Clock on Amazon, including almost 10,000 overwhelmingly positive user reviews.
---