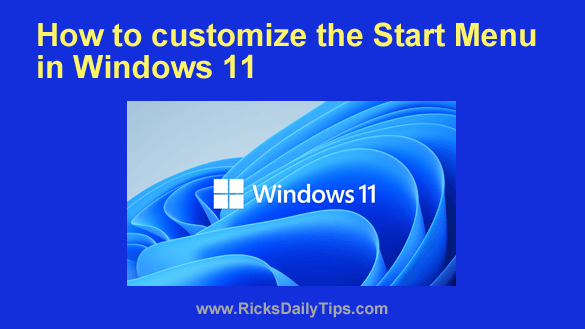 If you've recently started using Windows 11 for the first time you've probably noticed that Microsoft has drastically changed the look and layout of the Start Menu.
Personally, I'm not a huge fan of the changes, but they are what they are.
This post discusses some of the changes Microsoft has made to the Start Menu. It also offers tips for personalizing it to make it easier to use and a generally more efficient tool.
The first thing you probably noticed is the absence of "Live Tiles". In their place are lots of shortcuts to programs, apps and Windows features, many of which you'll likely never use at all, or only use on rare occasions.
The programs and apps you know you'll never be using can be completely uninstalled from the system to free up both storage space and CPU cycles.
To uninstall a program or app right from the Start Menu simply right-click on its shortcut and then click Uninstall.
If you know you'll be using a program or app on occasion you can remove its shortcut from the Start Menu and then access it later via the Apps List.
To remove a shortcut from the Start Menu just right-click on it and then click Unpin from Start.
After you've finished removing all of the unwanted shortcuts from the Start Menu you can easily add new shortcuts for quickly accessing the programs, apps and features that you do use on a regular basis.
Follow these steps to add a shortcut for an installed program or app to the Start Menu:
1 – Open the Start Menu and click the All apps button.
2 – Right-click on the first app you want to add and then click Pin to Start.
3 – Repeat step two for each of the other apps you want to add to the Start Menu.
You can also pin individual folders and/or files that you access on a regular basis to the Start Menu. Just follow these steps:
1 – Press the Windows+E key combination to open a 'File Explorer' window.
2 – Navigate to the folder or file you want to add, then right-click on it and click Pin to Start.
In Windows 10 we could also pin most items in the "Settings" app to the Start Menu, but for some reason Microsoft has made it impossible to do that in Windows 11.
However, you can still add many of the items in the "Control Panel" to the Start Menu.
Simply open the Control Panel and right click on an item of interest to see if it has a "Pin to Start" option. If it does, click on Pin to Start and you'll be able to access that Control Panel option right from the Start Menu.
That's all there is to it. While the Start Menu in Windows 11 is a bit different than the one in Windows 10, the adjustments above can help you personalize it to make it more to your liking.
---