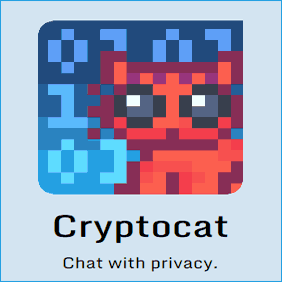 Between the NSA's increasingly intrusive snooping and hackers intercepting our web traffic, we can no longer take Internet privacy for granted.
But if you use Facebook's messaging system, there are a number of simple and free ways to keep your private messages private. A great example is a handy free service called Cryptocat.
Once you add Crytocat's browser extension to your computer's web browser(s) and/or install the app on your iPhone, all of your Facebook messages will be encrypted before they even leave your computer.
(Note: Your chat partner must be using Cryptocat too in order for your conversations to be encrypted.)
After your messages have been encrypted, they will be unreadable to anyone who might happen to intercept them somewhere along the Internet pathway.
Using Cryptocat is easy. Simply visit https://crypto.cat/ and click the download link for the web browser you're using.
You'll need to always use that particular browser with Facebook in order to encrypt your messages. Of course you can always install the Cryptocat extension for all of your browsers if you wish. (Note: Internet Explorer IS NOT supported by Cryptocat.)
When you add the Cryptocat extension to your browser(s), you'll be presented with instructions for getting started using the service.
In addition to extensions for computer-based web browsers, Cryptocat also offers a free app for your iPhone (an Android app is on its way). You'll find the download link right on the Cryptocat home page.
There are a couple of caveats to keep in mind when using Cryptocat:
1 – Cryptocat can only encrypt your Facebook messages if both you and the person you're chatting with have the Cryptocat extension installed on your web browsers and/or iPhones.
2 – While Cryptocat provides high-quality data encryption, no encryption method is perfect. Therefore Cryptocat cannot guarantee that your encrypted messages will never be read at some point in the future by a third party. After all, government entities have virtually unlimited resources to spend on developing decryption methods.
The above caveats being said, encrypting your Facebook messages with Cryptocat will go a long way towards keeping your private correspondence private.