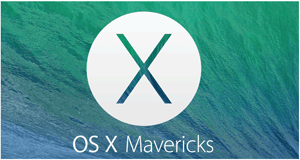 Last Sunday I told you that Apple had just announced a major security flaw in both their iOS and OS X operating systems.
They almost immediately released a patch to fix the flaw in iOS, but they said it would take a little longer for them to make a patch available for OS X.
Well, all of you Mac laptop and desktop users will be glad to know that Apple has finally gotten around to releasing a security patch for OS X as well. 
It's important to note however that the patch only applies to OS X Mavericks, the latest version of the operating system.
There is no word as of yet on whether patches will be released for older versions of OS X, but you can solve this critical issue right now simply by upgrading your Mac to OS X Mavericks (if your hardware supports it of course – click here to find out).
Visit this page on iTunes to check out the latest version of OS X Mavericks (version 10.9.2 which already includes the critical security update).
As with all posts regarding security updates, I hope you'll consider sharing this with your friends on Facebook and Twitter so they'll find out about it right away.