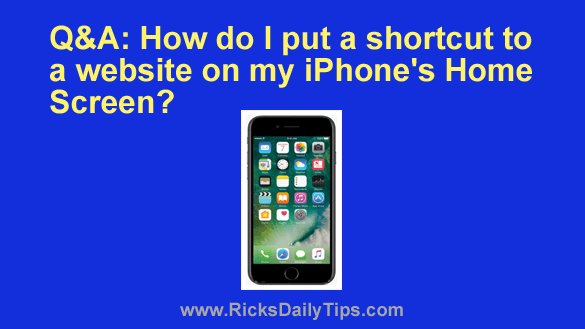 Question from Elise:  Hi, Rick. First of all I want to tell you how much I love your site. I've learned so much from you over the years.
Now I need your help if you don't mind.
I've always used Android phones but I decided to try an iPhone this time around. I really like it so far but I have a question.
How do I create shortcuts to my favorite websites on my iPhone's Home screen and have them open in Safari? I know how to create them with Android but I'm stumped on the iPhone.
Rick's answer:  I'm glad you're enjoying your new iPhone, Elise. I hope you get many years of great service out of it. And thanks so much for the kind words about my blog!
To answer your question, it's very easy to create a Home screen shortcut to a website on an iPhone and have it open in Safari by default. Just follow the steps below:
1 – Visit the website you want to create a shortcut to using your Safari browser.
2 – Tap the Share button (it looks like a square with an arrow sticking out of the top of it). You should now see the "Share" menu.
3 – Swipe up from the bottom of the screen and tap Add to Home Screen.
4 – Give your new shortcut a name, then tap the Add button.
That's all there is to it. You should now see the new shortcut on your iPhone's Home screen.
From now on when you tap that shortcut the website it "points to" should automatically open in Safari.
I hope this helps, Elise. Good luck!
---