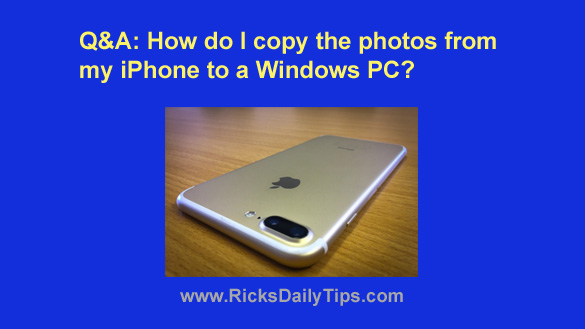 Note: The links in this post are affiliate links.
Question from Kellie:  I dropped my three year old iPhone 7 Plus and cracked the screen.
The phone still works but parts of the screen are unreadable.
I've never really been happy with this phone so I'm just going to replace it with an Android phone when I get paid next week.
My question is how can I copy the photos I've taken with the iPhone onto a Lenovo laptop that has Windows 10 on it?
I have a LOT of pictures on there and I really want to get them off ASAP in case the screen stops working altogether.
Rick's answer:  I'm sorry that happened to you, Kellie. It's never a good thing when a perfectly good and fully-functional device gets damaged due to an accident.
The good news is you can still use your phone until you're in a position to buy a new one.
That being said, you're wise to want to copy the photos onto your PC right away because you never know when the damaged screen might indeed decide it's time to stop working for good.
Luckily, it should be fairly easy to copy the photos from your iPhone onto your Windows laptop. Just follow the steps below.
1 – The first thing you need to do is make sure you have the latest version of iTunes installed on your laptop. The "On your PC" section of this page explains how to do that.
2 – Next, connect your iPhone to your laptop with a Lightning to USB cable. Make sure the cable you use is capable of syncing and not just charging. If you need a recommendation, this is a good one.
3 – If prompted to do so, enter your iPhone's passcode to unlock it.
4 – If you see a prompt on your iPhone asking you to "Trust This Computer", tap Trust or Allow to continue.
5 – On your laptop, click the Start button to open the Start menu.
6 – Click Photos to open the Photos app.
7 – Click Import, then select either From a USB device or From a connected device (whichever appears after you click Import) then follow the instructions as they appear.
That's all there is to it. You should now be able to copy the photos from your iPhone onto your laptop's hard drive.
I hope this helps, Kellie. Good luck!
---
Never miss a tip!  Click here to sign up for my free Daily Tech Tips Email Newsletter!