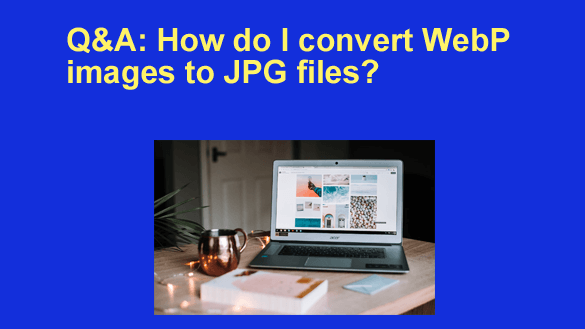 Question from Brooke:  I found a free images site that I really like because it specializes in the kind of photos I use on my blog.
The thing is, all the images on there are in WebP format and I really prefer using JPGs.
Can you tell me the best (as in easiest) way to convert WebP files into JPG files? 
Rick's answer:  I'm with you when it comes to WebP files, Brooke. I much prefer using JPGs, for several reasons.
Since you asked for a recommendation I'll tell you about a couple of handy tools you can use for making that conversion.
1 – You can download a handy app called WebP Converter. This is a very simple tool to use and it works quite well.
Just click the above link to download the program from OlderGeeks and then run it. It has a very simple user interface that really doesn't require instructions or a tutorial.
WebP Converter is completely free to download and use with no limits on the number of images you can convert.
2 – You can use an awesome online conversion tool called CloudConvert.
CloudConvert is my recommended option because it doesn't have to be installed on your computer. What's more, it allows you to choose a couple of very useful options for making the conversion.
Like WebP Converter, CloudConvert is super-easy to use. Just visit the website and upload your .webp image(s), then select your options (if any).
Unlike WebP Converter, CloudConvert is a premium service that requires a small fee for unlimited use. However, you can make up to 25 conversions per day at no charge.
I never even come close to converting that many images in a single day, and I'm guessing you won't either. That means CloudConvert is actually free for me (and probably for you as well).
There you have it, Brooke. I believe either of those two solutions will work well for you. I wish you all the best!
Update from Brooke:  I spent part of today using CloudConvert and I love it! Thanks so much!
---