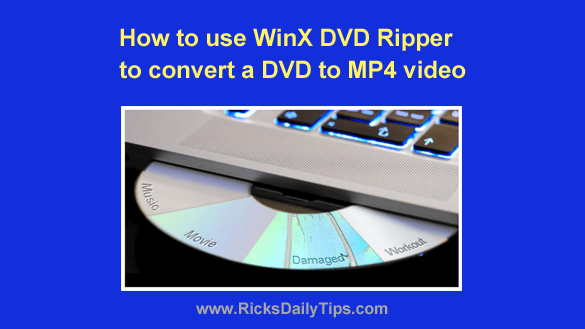 Click here to sign up for my free Rick's Tech Tips Newsletter!
---
Do you remember when everyone used DVDs? Do you still use them today?
DVDs (or "Digital Versatile Disc") technology was a revolution in digital data storage.
DVD seems like an ancient term, but truth be told there are still tons of them around.
And folks really loved them, especially the 90s generation. And they were still quite popular in the early 2000s .
Like lots of people, you might have great memories and cherished stories stored on DVDs that are stacked up in some storage container or tucked away up in your attic.
Technologically, we have long since moved on from DVDs as the digital storage media of choice. Now we have things like streaming services that deliver video directly to our devices over the Internet.
That's why in the course of just 13 years (since 2008) DVD sales have dropped 86%.
Still, many people have old films, series, programs and personal video recordings that are not available online that they'd love to enjoy once again.
But technology being what it is, watching those cherished old videos on modern devices isn't as easy as it should be.
Luckily, we have a tool called WinX DVD Ripper to come to our rescue!
For better or worse (and I believe it's for the better), we are living in a solution-oriented digital age.
Today, we have high-tech tools that help us convert the old into new. One such advanced program called WinX DVD Ripper can help us by converting the videos stored on DVDs into MP4s than can be watched on virtually any modern device. What's more, this awesome program is free of charge.
You can now use WinX DVD Ripper to easily convert your DVDs into MP4 format. And if the need arises it can rip the file into MP3 audio as well.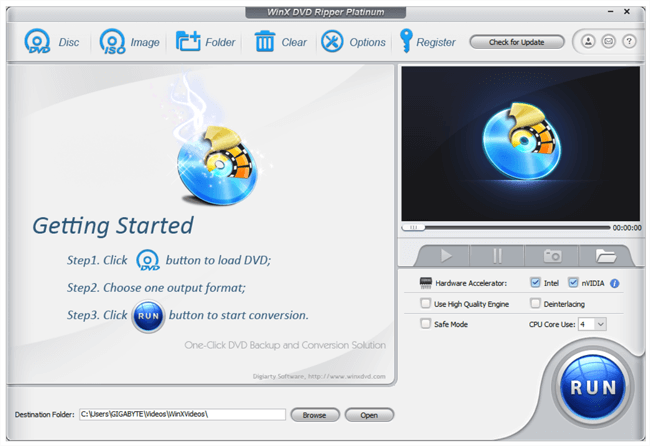 That makes WinX DVD Ripper one of the most powerful DVD rippers of our time.
You can download the WinX DVD Ripper from its official website. After that, you can use it to rip your DVDs in just a few easy and quick steps.
It comes with ready-to-use conversion files for various devices. Moreover, it rips a DVD for you in a matter of minutes. The user can even rip the subtitles and can embed their own subtitles as well.
In addition, the software comes with video editing options as well. You can adjust the video quality, trimming, resolution, audio, and display.
There is even a free version of WinX DVD Ripper that comes with limited options, and it offers great value to the user.
The user experience for WinX DVD Ripper is quite good. The user interface is intuitive, friendly and attractive.
How does WinX DVD Ripper help with Playback?
WinX DVD Ripper does an excellent job at fixing DVD playback for users.
It's extremely flexible when it comes to its compatibility with devices, operating systems, and other relevant software.
First, it allows you to rip any old DVD that you might have on hand. In fact, it can even decode and pick up the data beneath scratches. The software also works work with regionally locked DVDs.
Secondly, the software supports 350+ formats for conversions. That's the highest number of supported formats of any DVD Ripper program. Some prominent formats it supports are DVD to MP4, MOV, FLV, and MPEG4.
WinX DVD Ripper is also compatible with both iOS and Android devices.
The program converts a full DVD in just five minutes with Level 3 hardware acceleration. The details show that this free DVD ripper is the most flexible and adaptable software out there for playback issues.
Converting DVD to MP4 with WinX DVD Ripper
Now, let's discuss the most common DVD to MP4 video conversion on a Windows computer…
1 – Open the program and click on the DVD icon. A dialogue box will pop up and ask you about the source disc.
2 – Click OK.
3 – Select the source file. Once you have selected the file, an output flow window will appear.
4 – In the General Profiles tab, choose MP4 Video and make any necessary changes in the settings.
5 – Click on the Browse button to choose a destination folder, then click OK.
6 – Click on the blue button that says RUN. The conversion will start and then finish within five minutes.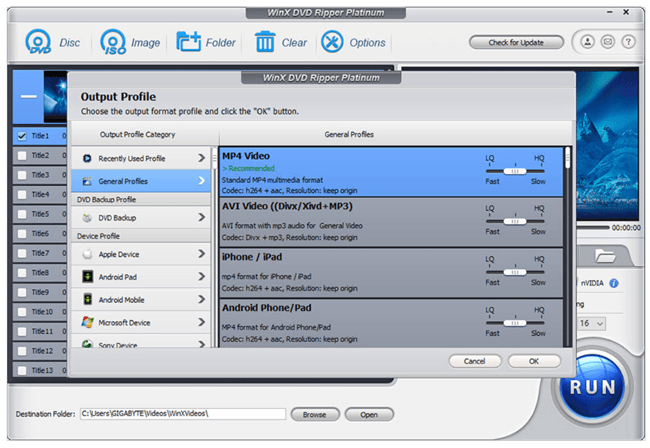 7 – After the conversion is complete you can save the MP4 file to your computer. And if you want to you can directly transfer it to your mobile devices as well.
There you have it, your DVD video has now been converted to MP4.
Note: You can also perform conversions with other formats. As you can see, the process is fast and simple.
Want to give WinX DVD Ripper a try?
WinX DVD Ripper is one of the best DVD rippers I have ever used.
The free version is well suited for individuals, kids, and families while the premium version is best for businesses and corporations.
Now, you can relive the old days by playing your cherished DVD videos on computer or mobile devices.
You can download the free WinX DVD Ripper program right here.
---
Cick here to ask me a tech question.