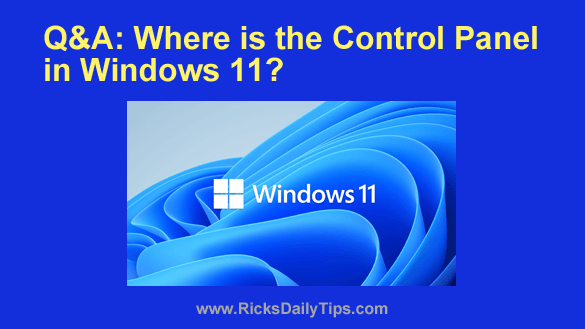 Question from Kerry:  I have a Windows 11 question for you if you don't mind.
I used to be a Windows guy, but when Microsoft stopped supporting Windows 7 I decided to switch to a Mac.
Well, my Mac recently bit the dust and I decided to switch back to Windows. Long story short, I ended up buying an HP all-on-one desktop computer with Windows 11 on it.
Back when I was using Windows 7 I could open the Control Panel from the Start menu, but that's apparently not the case with Windows 11. I've looked high and low and I can't find it.
I'm pretty sure Windows 11 still has a Control Panel because I think I remember seeing it mentioned on your site before. Can you tell me how to find it? 
Rick's answer:  As you've discovered Kerry, Microsoft removed the Control Panel from the Start menu in recent versions of Windows. But as you already know, it's still there. For whatever reason, they've effectively hidden it.
But guess what? The Control Panel is actually very easy to find if you know where to look. This short video shows how.
Note: You can watch this video at full screen by clicking the little "square" icon in the lower-right corner of the video after it begins playing.
Do you prefer following written instructions? Here you go:
1 – Click the Start button to display the Start menu.
2 – Type the word control.
You should now see Control Panel listed in the search results. You now have two options:
1 – Click on Control Panel to open it straightaway.
or…
2 – Right-click on Control Panel and select Pin to Start from the menu.
I recommend that you choose the second option because that'll put an icon for the Control Panel right on the Start menu. You'll then be able to quickly open the Control Panel at any time simply by opening the Start menu and clicking its icon.
Well, that's all there is to finding (and opening) the Control Panel. Now that we have that out of the way, I'll just say this…
For some time now Microsoft has been slowly moving various settings from the Control Panel to the Settings app. In fact, most every time they release a major Windows update it seems like they've moved another setting or two to its new "home" in the Settings app.
I could be wrong, but I believe they're planning to eventually move ALL the settings that are currently in the Control Panel to the Settings app and then ditch the Control Panel altogether.
It's been some time since you've actually used the Control Panel on a Windows PC so there's a good chance that at least a few of the settings you'll want to change have already been moved from the Control Panel to the Settings app.
Therefore, if you find that a setting you're looking for is no longer in the Control Panel just open the Settings app and look for it there. You'll almost certainly find it in short order.
Just in case you haven't used it yet, you can quickly open the Settings app by right-clicking the Start button and then selecting Settings from the menu.
Alternatively, you can simply press the Windows+I key combination.
I hope this helps, Kerry. Good luck!
---