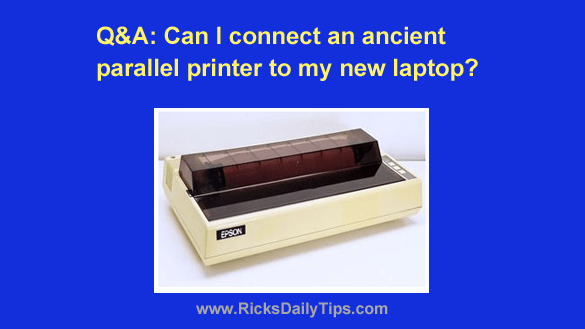 Note: The links in this post are affiliate links.
Question from Keith: I went to an estate sale the other day and they had an old Epson MX-100 printer they were going to auction off.
Due mainly to nostalgia (my very first printer was an MX-100) I bid on it and ended up buying it.
I didn't really expect it to work since it's so old but when I plugged it in it ran the self test just fine.
Now I could use some help if you don't mind. I have a couple of questions:
1 – I'd really like to connect this printer to my laptop but the laptop doesn't have a parallel printer port.
Is there a special cable or adapter I can get to connect this dinosaur to one of the connectors on my laptop?
2 – If I manage to get the printer connected to the laptop will I be able to get it to work with Windows 10?
If the answer to any of these questions is no I guess I'll just set the printer on a shelf and use it as a conversation piece. Thanks in advance for your help.
Rick's answer: I have some great news for you, Keith…
Assuming your new-found Epson MX-100 is still in working order (and the fact that it ran the self-test is a good sign) AND you're able to find a ribbon for it, the answer to both of your questions is yes!
First, let's talk about the cable…
Since this printer has a parallel interface you're going to need a USB to Parallel adapter cable.
You might be able to find one locally, but if you can't you can always get one from Amazon.
Next, you'll need an MX-100 printer driver that works with Windows 10.
I don't know for sure but Windows 10 just might have an MX-100 driver that you can install after you get the printer connected to the laptop.
If not you can download the "Generic 9-Pin Printer Driver" from this page on the Epson website.
Note: The Epson download page states this driver is intended for Windows 3.1. However, it also states that it's compatible with Windows 10.
I hope this helps, Keith. I wish you the best of luck with your new (old) printer!
---
Never miss a tip!  Click here to sign up for my free Daily Tech Tips Email Newsletter!