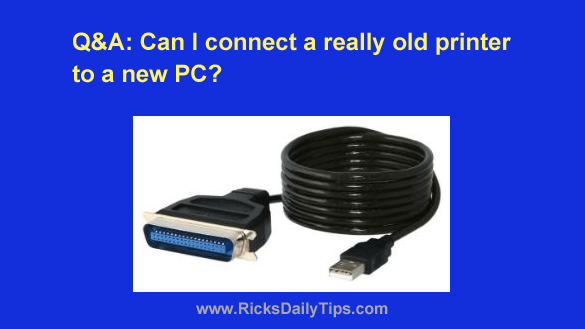 Note: The links in this post are affiliate links.
Question from Barry:  I have a really old (circa mid-1990s) HP Laserjet 5 mono laser printer that I really love.
I haven't used this printer in many years. I replaced it with a new one the last time it ran out of toner because replacement HP toner cartridges were very expensive back then.
I was rummaging around online last night and saw that I can get an off-brand toner cartridge for this printer for around $30!
Since the printer was working fine when I stopped using it I'm thinking it's probably still in working order now. I believe it's worth spending $30 to find out.
The problem I have is the Laserjet 5 has a Centronics parallel port on it but my new HP desktop computer doesn't have a parallel printer port.
Do you know of any way I can connect this old printer to this computer?
Rick's answer:  Barry, I agree with your opinion about the HP Laserjet 5. It really was an awesome printer!
Now, to answer your question…
The short answer is yes. There are actually several ways to connect an older parallel printer to a newer PC that doesn't have a parallel printer port. Here are the two easiest methods:
1 – If your desktop PC has an open PCIe slot you can use a PCIe to Parallel Port Adapter Card.
Since you didn't mention the model of your HP desktop machine I can't tell you whether or not it has an open PCIe slot. But you can check that yourself by simply Googling the specs for the PC's model number.
2 – Whether your PC has an open PCIe slot or not, you can always connect your old printer to it using a USB to Parallel IEEE 1284 Printer Cable Adapter.
Truth be told, this is probably the best way to go even if your PC does have an open PCIe slot.
Why? Because this adapter cable is a lot cheaper than the PCIe card mentioned above AND you won't have to bother opening up your PC and fiddling with its innards!
Now that we have the answer to your actual question out of the way, I feel that I need to mention a couple of potential caveats for you to consider before you lay out the cash for a new toner cartridge and the adapter of your choice:
1 – Although your old laser printer was working just fine when you stopped using it, it might not work very well today.
Laser printers have a number of moving metal and plastic parts, and when they sit on a shelf over a long period of of time those parts can dry up and break down, causing mechanical malfunctions once the printer is put back into use.
2 – Even if the printer hardware turns out to be in working order, there's a very real chance that you won't be able to find an up-to-date software driver for it.
I took a quick look to see if there was a Windows 10 compatible driver available for the HP Laserjet 5 on the HP website and I couldn't find one.
And now, a word of caution: You could possibly download a Windows 10 driver for this printer from a third-party website, but I must warn you that many third-party driver download sites are either outright frauds or otherwise unreliable.
In short, if you choose the wrong one and you could easily end up downloading malware onto your PC. Just sayin'.
Bottom line: While you can certainly connect your old (and admittedly awesome) Laserjet 5 printer to your new desktop computer, doing so could possibly result in the loss of any cash you spend in the process if you're unable to find a working printer driver that doesn't infect your PC with malware.
That being said, you seem to really like this printer so the "dangers" involved might well be worth it to you. You'll just have to use your own judgement and make your own decision about whether you wish to proceed.
Whatever you ultimately decide, I wish you the very best of luck!
Update from Barry: Thanks for the info, Rick. After carefully considering everything you said above I've decided to just recycle the LaserJet 5 and buy a new laser printer.
---
Never miss a tip!  Click here to sign up for my free Daily Tech Tips Email Newsletter!