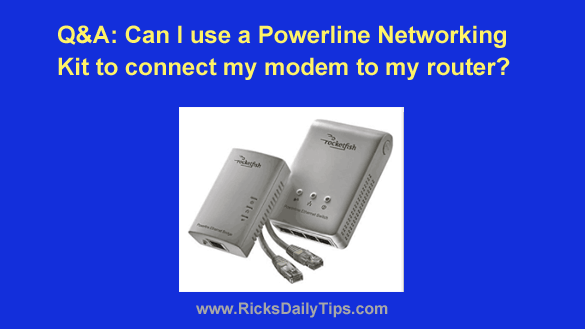 Note: The links in this post are affiliate links.
Question from David:  My wife and I just bought a two story house that's pretty large and the WiFi signal won't reach all the bedrooms on the second floor.
I'm certain that moving the cable modem and wireless router from the den to someplace near middle of the house would do the trick, but that would require having the cable company come out and run a new wire.
I'd rather not do that if I can possibly avoid it. 
I read your post about powerline networking kits and I was wondering if I can use one of those to connect the modem to the router. That way I could leave the modem in the den and place the router somewhere in the middle of the house.
Your advice on on this matter will be greatly appreciated. Thank you!
Rick's answer:  Yes David, you absolutely can connect your cable modem to your wireless router with a powerline networking kit, and in your situation I believe that would be a good solution. There are a couple of things to consider however:
1 – I recommend choosing a powerline networking kit that transfers data at least as fast as your router's WiFi connection and the download speed offered via your Internet service agreement.
If you don't you could end up effectively limiting the speed of your Internet connection to the maximum speed supported by a pair of slower powerline networking adapters.
This might not be a big deal right now if your cable Internet connection is limited to something like 30-60 Mbps, but much faster speeds will be coming to many areas fairly soon. And yours just might be one of them!
To be safe, if I were you I'd go with a kit that operates at 600 Mbps or higher in order to ensure that you end up with a fast network, both now and in the future.
In fact, a 1Gbps kit would be even better, and a 2Gbps kit would give your Internet speeds plenty of room to grow.
2 – Try several different electrical outlets that are located in the general area where you want to place the router. Different electrical circuits can vary in the quality of their connections to the breaker box, which in turn can affect data transmission speeds.
Just plug the powerline network adapter and your router into each outlet that you want to test, then use the results from Speedtest.net to compare the relative speeds supported by each outlet.
After you've determined which outlet supports the fastest download speeds simply use that outlet to connect your modem to your router.
Now that I've answered your question, there's another (even better) alternative that I strongly recommend that you consider…
You can replace your existing router with a mesh WiFi system and get even better performance from your WiFi betwork.
A mesh system consists of two or more devices that serve as both a router and at least one repeater. One device plugs into your modem and the other device(s) are placed somewhere near the middle and/or far end of the house.
There are a number of good mesh kits on the market, but if you're looking for a recommendation I've been using this one for about a year now, and I love it.
Bottom line: A powerline networking kit
works well for connecting distant Ethernet devices in your home without having to run any cables, but a WiFi mesh system is really a better overall solution.
I hope this helps, David. Good luck!
Bonus tip #1: This post explains why you should always keep both your modem and your router plugged into a battery backup device.
Bonus tip #2: Here's a short video that explains how to place any open browser tab in its own window.
---