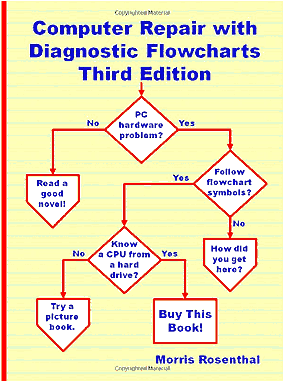 Some say that there is something of an art to troubleshooting and repairing computers, but coming to a quick and accurate conclusion really boils down to knowing which checks to make for a given issue, and in what order.
Most experienced computer technicians know how to go about finding and fixing most any problem in a timely, efficient manner, but those just starting out are likely to rely on the "shotgun" approach to troubleshooting which results in lots of wasted time and wasted parts.
Computer Repair with Diagnostic Flowcharts: Troubleshooting PC Hardware Problems from Boot Failure to Poor Performance is an excellent troubleshooting guide that contains a collection of simple-to-follow flowcharts for efficiently diagnosing and repairing virtually any computer problem that you're likely to encounter.
Virtually everything you need to know is included in this handy guide, including all of the following, and more: 
– Power Supply Failure
– Video Failure
– Video Performance
– Motherboard and CPU Issues and Performance
– RAM Failure
– Hard Drive Failure
– Boot and Performance Issues
– CD, DVD or Blu-ray Playback Issues
– Modem Issues
– Sound Card Issues
– Network Hardware Failure
Whether you're interested in working on computers as a hobby, just tinkering around with computer hardware, or making a good living as a computer technician, "Computer Repair with Diagnostic Flowcharts" will get you off to a fast start. Click here
(#ad) to check it out at Amazon.