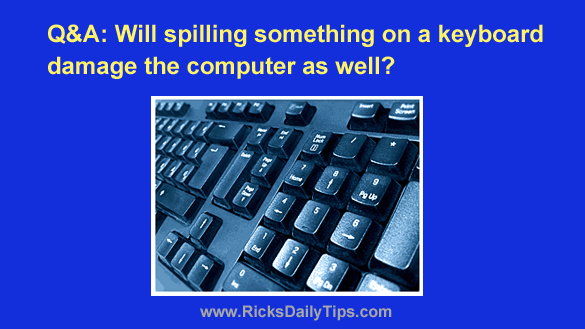 Note: The links in this post are affiliate links.
Question from Kayla T.:  I spilled a large glass of coke all over my keyboard Rick.
After I saw what I had done I immediately unplugged the power cable from the computer and disconnected the keyboard from the USB port.
I'm not worried about the keyboard since they're so cheap, but it's the tower that has me worried.
Do you think I can just buy a new keyboard and plug it in or do you recommend having the computer checked out by a repair shop first to make sure it's not damaged?
Rick's answer:  Hi Kayla. Spilling liquid on the keyboard can easily damage a laptop, but I've never heard of a case where it damaged a desktop computer with a USB keyboard.
And given the way USB circuitry works, I seriously doubt that it ever could. Unlike the computer hardware of days past, USB is quite forgiving of mishaps like this.
Bottom line: I believe your computer will work just fine once you connect it to a new keyboard.
FYI: This is an excellent time for you to upgrade to a wireless keyboard.
A wireless keyboard will cost a few bucks more than a wired one, but trust me, the extra cost is well worth it considering how convenient it is not to have to deal with a cord.
Even better, get yourself a wireless keyboard and mouse combo and you can eliminate both cords at once!
I hope this helps, Kayla. Good luck!
Update from Kayla: Thanks for letting me know that Rick. I bought a new keyboard at Walmart and my computer is working fine now!
Bonus tip: This post discusses several awesome free tools that can help keep your PC running like new.
---
Never miss a tip!  Click here to sign up for my free Daily Tech Tips Email Newsletter!