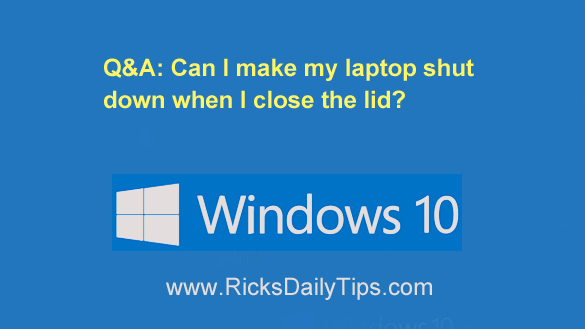 Question from Trevor:  Rick, I have an HP laptop running Windows 10.
When I close the lid it goes into sleep mode, but I'd rather have it just shut down all the way because I'm usually going to just leave it in my laptop bag and not use it for a while.
Is there a way to make it do that? Thanks.
Rick's answer:  Yes there is Trevor, and I agree that it's a good idea to shut your laptop down completely when you aren't going to be using it for a day or longer.
Just follow the steps below to force your laptop to automatically shut down every time you close the lid:
1 – Right-click on the Start button and select Power Options from the drop-down menu.
2 – Click Additional power settings.
3 – Click Choose what closing the lid does.
4 – You should now see two columns of settings, one for when the laptop is running on battery power and one for when it is plugged into a wall outlet. In both columns, change the When I close the lid: setting to Shut down.
Note: If you'd like to have the laptop respond differently when plugged into an outlet that when it's running on battery power, simply adjust the options as desired.
5 – Click Save Changes.
That's all there is to it. From now on your laptop will shut down instead of going to sleep every time you stop using it and close the lid.
I hope this helps, Trevor. Good luck!
---