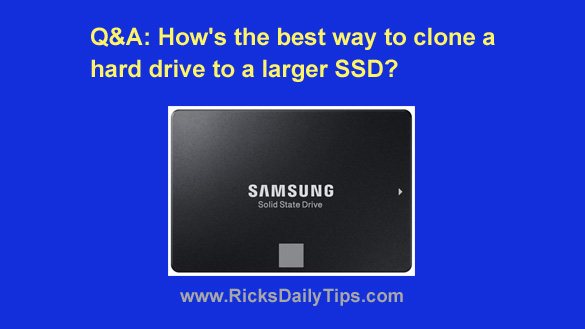 Note: The links in this post are affiliate links.
Question from Mike: First of all, I love your blog, Rick. Your tips have helped me a lot over the years.
Now I need your help with an SSD upgrade if you don't mind.
I've read several of your tips about replacing a hard drive with an SSD.
Some of those tips discuss cloning the contents of a large hard drive to an SSD that has less storage capacity than the hard drive, but my situation is exactly the opposite. 
I just bought this Samsung 2TB SSD to replace the 1TB hard drive as the boot drive in my HP desktop computer (with Windows 10).
My question is what's the easiest way to clone the smaller hard drive onto the larger SSD and have the SSD use the entire 2TB of storage space instead of just the 1TB that matches the hard drive?
I already have the SSD installed in the computer and it's showing up in the BIOS. The machine is still booting into Windows from the hard drive. Now I just need to clone the contents of the hard drive onto the SSD.
Rick's answer: Mike, since you already have the SDD installed in the PC you're well on your way to getting this done!
The easiest way to clone a 1TB hard drive to a 2TB Samsung SSD when both are installed inside the PC is to use an awesome (and free) tool called Samsung Magician.
This tool can be downloaded for free directly from the Samsung website.
The Samsung Magician software will create a partition on the SDD that uses all the available space on the SSD and then copy Windows and all the other files on the hard drive into that partition on the SSD.
Just follow the steps below and you'll have the cloning phase of this project completed in no time:
1 – Download the Samsung Magician software from this page and then install it on your PC.
2 – Read the user guide that's supplied right here and follow the instructions for (Normal Mode) If the Source Disk is smaller than the Target Disk.
3 – Run the Samsung Magician utility and respond to the prompts as required until the cloning process is complete.
That's all there is to it. This is by far the easiest way to clone your computer's hard drive to the larger Samsung SSD.
Important: What I'm going to say here isn't really for you, Mike. It's actually for the benefit of other readers who might have a different brand of SSD or a non-supported model of Samsung SSD.
The Samsung Magician software mentioned above only works with Samsung SSDs, and only the specific Samsung SSDs listed in the user manual. (The 870 EVO line is supported.)
I use this awesome tool to clone hard drives to non-Samsung SSDs.
I hope this helps, Mike. Good luck!
---