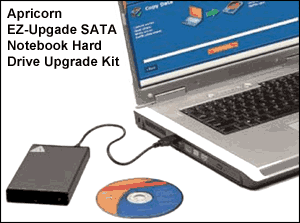 Question from Cade L.:  My dad bought a 500GB SSD to go in his PC but he ended up deciding to install a 1GB SSD instead.
He gave me the 500GB SSD and I'd like to use it to replace the 750GB hard drive in my laptop.
The hardware swap will be easy so I'm not really worried about that. But how do I clone the hard drive to the smaller SSD? Any suggestions?
Rick's answer:  Hi Cade. Migrating from a large drive to one that's smaller can be difficult, but in your case it can be a breeze thanks to a great product I reviewed a while back.
It's called the Apricorn EZ-Upgrade SATA Notebook Hard Drive Upgrade Kit (#ad), and it will make your task very easy.
All you have to do is install your SSD into the external hard drive case that comes with the kit, then plug it into a USB port on your laptop and run the cloning software.
You didn't mention whether your hard drive is currently storing more data than will fit on your new SSD. If not, the Apricorn kit will make the transfer with minimal input from you.
On the other hand, if the contents of the drive won't fit onto the SSD you'll be able to deselect enough folders to make the total amount of data to be migrated to the new drive small enough to fit.
After the transfer is complete simply replace the hard drive with the SSD and install the hard drive in the external enclosure.
The hard drive will effectively become an external USB drive that contains ALL of your data files, and you'll be able to access them at any time.
What's more, you now have a backup drive that you can simply remove from the external enclosure and reinstall back into the laptop if anything ever happens to the SSD! You'll be back up and running in minutes!
Bottom line: I truly believe the Apricorn EZ-Upgrade Kit (#ad) is exactly what you're looking for Cade. Good luck!
Bonus tip #1: This post explains how to prepare for a hard drive crash.
Bonus tip #2: Want to make sure you never miss one of my tips? Click here to join my Rick's Tech Tips Facebook Group!
---
Want to ask Rick a tech question? Click here and send it in!
If you found this post useful, would you mind helping me out by sharing it? Just click one of the handy social media sharing buttons below.