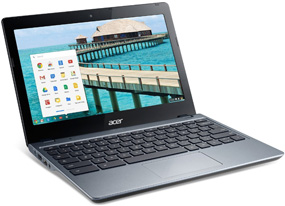 According to sales data compiled by the folks at IDC Research, more people bought laptops running Google's Chrome operating system than Apple Macs for the first time ever in the first quarter of 2016.
Chromebooks (#ad) have been steadily gaining market share for some time now, and it was fairly inevitable that this would happen sooner or later.
While they won't overtake Windows PCs any time soon, Microsoft must still be wringing their collective hands as these nifty devices eat into their market share as well. 
What makes Chromebooks so appealing is their famously low prices and snappy performance.
Since the Chrome O.S. is basically just a specialized version of the Google Chrome web browser without the bloat of a full-blown operating system running underneath it, Chromebooks are able to provide a fast and smooth user experience without having a powerful CPU and tons of RAM.
The above being said, Chromebooks do have a downside: They rely heavily on web-based apps instead of desktop applications, making them poorly suited for heavy business use or serious gaming. But they excel at most everything Internet-related, hence their great (and still growing) popularity.
Bottom line: As ever more common computing tasks make their way to the web, Chromebooks are sure to continue to gobble up more computer market share as time marches on.
Click here (#ad) to check out the large selection of Chromebooks at Amazon.