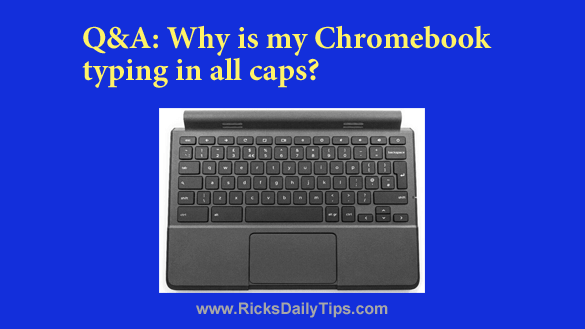 Question from Polly:  I bought a Chromebook a few months ago after my Windows laptop died, but now I've started having trouble with the Chromebook.
Starting last night everything I type is in all capital letters.
I checked to see if the Caps Lock key might be on, but I can't find one.
Will you please answer these two questions? 
1 – If there's a Caps Lock key on my Chromebook, where is it?
2 – If there is no Caps Lock key how did Caps Lock get turned on (and how do I turn it off)?
I hope you'll answer these or else I might go completely bonkers.
Rick's answer:  There's no reason to go bonkers about this, Polly. There's a very simple explanation for the situation you're in – and an equally simple solution.
First of all, you're right that there is no dedicated Caps Lock key on a Chromebook like there is on most other computer keyboards.
For whatever reason, Google decided to do away with the Caps Lock key and replace it with a Search key.
For the benefit of readers who might not be familiar with them, here's a look at a typical Chromebook keyboard:
You'll find the Search key on the far-left side of the keyboard, right above the Shift key. It has a little magnifying glass icon on it.
The Search key actually has several functions, depending on how it's used in combination with other keys.
One of those functions is turning on Caps Lock, and then turning it back off again.
What you must have done is press the Alt+Search key combination as that's the keyboard shortcut for enabling Caps Lock on a Chromebook.
And as you might guess, pressing Alt+Search again will turn Caps Lock back off. Give it a try!
I hope this helps, Polly. Good luck!
Update from Polly:  That worked, Rick. Thanks.
---