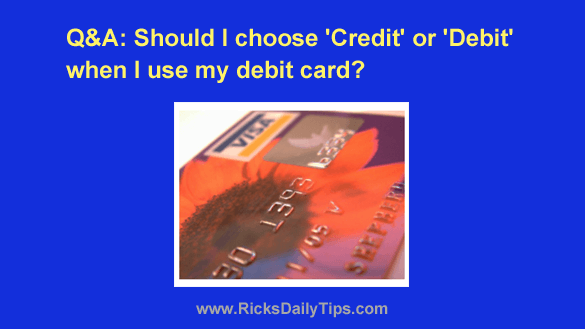 Question from Felicia:  I use my debit card to pay for almost everything, and I have a question about it.
When I pay for something with my debit card the card reader usually gives me a choice between "Credit" and "Debit".
I usually choose debit because it's a debit card, not a credit card.
My question is which should I choose? And what's the difference between the two?
By the way, I'm almost ashamed to ask you this because I really should know the difference, but I don't.
Rick's answer: Don't feel bad, Felicia. Lots of folks are confused by this choice. Trust me when I tell you that you're far from the only one.
The primary difference between a credit transaction and a debit transaction is how they are processed.
If you select "Credit" the terminal will process the transaction via the Automated Clearing House (ACH) financial network.
The ACH network was created by the banking industry over 40 years ago to facilitate credit card transactions, and it's still heavily used today.
On the other hand, if you select "Debit" the transaction will be processed via the Electronic Funds Transfer (EFT) network.
The EFT network is much newer than the ACH and it's used primarily to facilitate "cash" transactions (as opposed to "credit transactions).
From the consumer's standpoint there is very little difference in how "Credit" and "Debit" transactions are initiated when a debit card is swiped.
In fact, the only obvious difference at most terminals is that you have to enter a PIN to initiate a "Debit" transaction while most "Credit" transactions require your signature.
After you enter your PIN or sign your name you're presented with a receipt, and off you go!
However, behind the scenes those transactions are quite different because they use different networks to process the transactions. They also provide different benefits and drawbacks for the consumer.
If you choose "Credit":
It might take several days for the transaction to be completed (it will sometimes show as "Pending" if you check your account while the transaction is being processed).
The money paid for a "Credit" purchase remains in your checking account until the transaction is completed. This is a big plus if it's an interest bearing account and you tend to make large purchases with your debit card.
Your liability and amount of monetary loss might be limited if the transaction turns out to be fraudulent.
You might qualify for bonuses and other incentives that don't apply to "Debit" transactions.
The merchant will typically have to pay a higher transaction fee for having the transaction processed via the ACH instead of the cheaper EFT.
If you choose "Debit":
The transaction will typically be completed the same day. In fact, most debit transactions are completed almost immediately.
The merchant will typically pay a lower transaction fee due to the lower costs involved with using the EFT network.
Your liability and monetary loss could be as much as the total dollar amount of a fraudulent transaction.
You won't qualify for most of the bonuses and incentives that apply to some "Credit" transactions.
Bottom line: As you can see, there are several important differences between "Credit" transactions and "Debit" transactions.
If you want the most protection from fraudulent transactions you can get or if you have an interest bearing checking account, "Credit" might be your best choice.
However, if you want your transactions to be completed as quickly as possible and/or you want to support local businesses by causing them to incur lower transaction fees, choose "Debit".
In most cases you'll be able to choose which method you want to use based upon what works best for you.
Bonus tip: Did you know you can pay cash when you shop at Amazon? This post explains how.
---