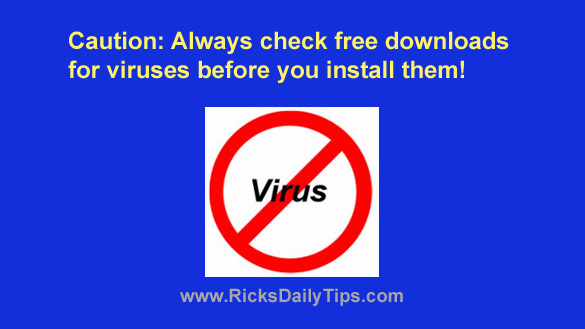 Regular readers of this blog know I'm a huge fan of free software because I routinely recommend the use of freeware whenever possible to accomplish whatever the task at hand may be.
But as you probably also know there can be hidden dangers lurking behind the scenes every time you install a piece of free software.
The dangers range all the way from the installation of unwanted add-on software to installing viruses and other forms of malware right along with the programs themselves.
It's usually pretty easy to avoid installing unwanted add-on software by following the tips mentioned in this post.
But that being said, it's still a good idea to ensure that a program you just downloaded isn't infected with a virus or laden with another form of malware.
Making sure to get your free downloads from a trusted repository like OlderGeeks.com can go a long way towards ensuring that the software you install is safe and malware-free.
But regardless of where you get your downloads from it's always a good idea to check the installation file(s) you downloaded for viruses BEFORE you install the program!
Why? Because download sites occasionally get hacked and the hackers can easily replace the clean files in the sites' repositories with compromised, virus-laden copies.
Please understand that this isn't a slam on the quality download sites. Far from it.
The great folks at OlderGeeks and other reputable download sites take great pains to ensure that their downloads are always free of any types of nasties.
All I'm saying is it pays to always be vigilant and take every precaution possible just in case a hacker manages to break through your preferred download site's defenses at some point.
Besides, checking your downloads for viruses only takes a minute or two, so why not?
If you have a Windows laptop or desktop PC you can easily scan any downloaded file with its currently-installed antivirus program by right-clicking on the downloaded file or folder and then clicking Scan with [Your Antivirus Program].
For example, if your PC is currently being protected by Windows Defender you would simply right-click on the file or folder and then click Scan with Windows Defender.
The results of this quick scan with your PC's antivirus app is a good indicator of the relative safety you can expect when installing the software, and under most circumstances it's probably good enough.
However, it's important to note that no antivirus program is perfect and they all have the potential for "missing" certain types of viruses (especially if the virus is a new one).
Luckily, there's a very easy way to run an even more thorough virus check on your downloaded files…
Run them through a fantastic online tool called VirusTotal.
VirusTotal will analyze your files with not just one, but dozens of the top-rated antivirus tools that are available today.
If every one of those antivirus tools determine that the file is clean you can rest assured that it can probably be safely installed with no worries.
Checking a file with VirusTotal is easy…
Simply visit VirusTotal.com and drag the file from your PC onto the document icon on the VirusTotal home page.
Each of the supported antivirus engines will run their tests and then display the results right on the screen.
Bottom line…
While being very selective about where you get your free downloads from (again, you can't go wrong at OlderGeeks) can greatly enhance your chances of downloading clean, virus-free software, checking the downloaded file(s) with your PC's antivirus program can give you a warm, fuzzy feeling about the safety of the download.
And then running them through VirusTotal can give you all the confidence you need.
---