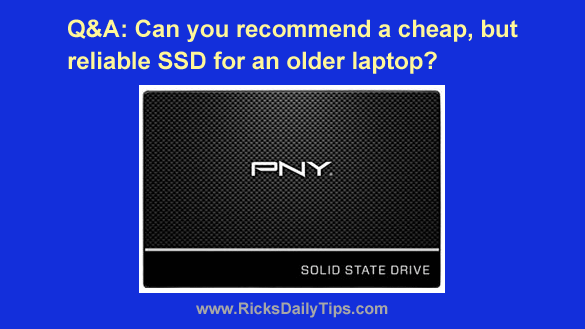 Note: The links in this post are affiliate links.
Question from Ari G.:  The hard drive in my 5 year old Dell Inspiron laptop died a few days ago. This has been a great machine and I don't want to just trash it.
I'd like to replace the bad hard drive with an SSD, but I'd rather not spend a lot of money if I can help it.
After reading your post about Linux Mint I'd like to install it on this laptop and use it as my primary Internet computer. I won't need a lot of storage space so a fairly small SSD should be ok.
What I'm looking for is the cheapest SSD I can get that's large enough to hold the new Linux installation and maybe a few Chrome extensions. But I'd like the SSD to be as reliable as possible.
I know it's probably going to be tough finding a dirt cheap drive that's also reliable but I'd appreciate a recommendation if you have one.
Thanks in advance for your help!
Rick's answer:  I have good news for you, Ari. You can actually get a great SSD that perfectly meets your requirements for about the price of a good pizza!
I found a highly rated, but virtually dirt-cheap PNY CS900 120GB SSD that's plenty large enough to hold most any version of Linux and a slew of browser extensions with room to spare.
I agree with your decision not to simply "junk" your otherwise dependable laptop because the combination of this SSD and Linux Mint will make it perform quite well.
I hope this helps, Ari. Good luck!
Click here to read more about the PNY CS900 120GB SSD at Amazon.
Update from Ari:  This is perfect Rick. I just ordered one. Thanks for helping me find it!
---
Never miss a tip!  Click here to sign up for my free Daily Tech Tips Email Newsletter!