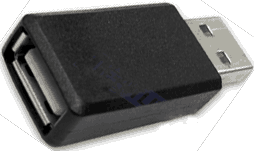 The USB ports in a typical laptop computer simply cannot supply enough current to charge an iPad, but now there's an awesome little device from Meritline allows you to charge your iPad from any computer's USB port, including your laptop.
As you can see in the photo, the dongle looks somewhat like an over-sized USB drive. Just plug it into a USB port, then plug in your iPad and you're all set!
While I haven't tried it personally, the customer reviews I've read on the Meritline website give it high marks, and independent testing by at least two national computer magazines seem to confirm that the praise is warranted. And the best part is you can get your hands on one for just $4.99 – and that includes the shipping fee!
Click here to check it out at the Meritline website.